Microsoft to recruit 2,500 new employees in Israel over the next four years
The corporation is planning to double the number of R&D employees, opening five new sites in the country, including in Beer Sheva, Jerusalem, Tel Aviv, and Herzliya
UPDATE: Microsoft Israel GM: We'll recruit thousands of employees with the help of acqui-hiring

Microsoft intends to more than double the number of employees in its research and development operation in Israel – from around 2,000 to 4,500 – over the next four years. Hundreds of open positions are currently being filled, from senior engineers to interns. Over the past 18 months, Microsoft's R&D headcount in Israel grew by 30% to more than 2,000 people across sites in Herzliya, Haifa, Tel Aviv, and Nazareth.

"The establishment of the new development sites, along with the recruitment of thousands of new employees in Israel, is proof of Microsoft's commitment and confidence in our technological impact and talented workforce," said Michal Braverman-Blumenstyk, Corporate Vice President and General Manager of Microsoft's Israel R&D Center. "This expansion will help us grow, retain, and recruit the most talented people to build the most cutting-edge solutions. We want Microsoft to be accessible to any candidate no matter where they live, so establishing campuses in Jerusalem and Beer Sheva is especially significant."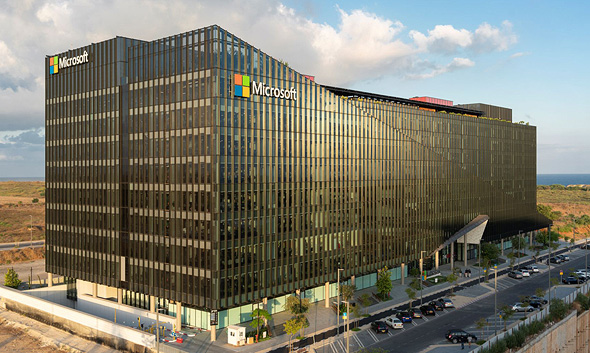 Microsoft campus in Herzliya. Photo: Eran Gron

The new Tel Aviv site will host more than 1,000 employees on 25,000 square-meters grounds. The company is also scouting for additional space in Herzliya of 17,000 square meters, adjacent to the brand-new Microsoft campus that was unveiled a year and a half ago, to accommodate 1,000 additional employees.

Two new development sites will be opened next year in Beer Sheva and Jerusalem to extend its geographic reach and include under-represented sectors such as ultra-orthodox Jews and Israeli Arabs. The location of the fifth site is still being considered.

The new facilities will join the company's flagship sustainable and accessible campus in Herzliya launched last year. The 46,000-square-meter building is the first in Israel to gain the highest level (3-star) Fitwel certification, which focuses on supporting a healthy workplace environment.

Microsoft's Israel R&D Center has over 30 different product groups, playing a role in the development of many of Microsoft's core products and advanced technologies, including data security, cloud services, Big Data, digital health, autonomous driving platforms, AI, and Surface devices.