Opportunity and Optimism abound as Abraham Accords mark first anniversary
"Within a very short timeframe we received a lot of deals coming from Israel. Two years ago, I could not foresee such vast progress and development," said Adv. Richard Hughes, a partner at DLA Piper in the UAE
Global law firm DLA Piper hosted a festive dinner for councils from leading companies in the Israeli market this week to mark the anniversary of the Abraham Accords. The event was led by the firm's partners of the neighboring countries, by Adv. Richard Hughes from UAE; Adv. Christophe Bachelet from Morocco, and Adv. Mohamed Toorani from Bahrain. Each of the three presented the participants with a business review of their country and how Israeli companies can promote collaborations and initiatives in those regions. The event was arranged by DLA Piper Israel, led by Adv. Jeremy Lustman.

The Abraham Accords saw the normalization of the financial and diplomatic relationship between Israel and the UAE, with Bahrain and Sudan also signing similar agreements with Israel not long after.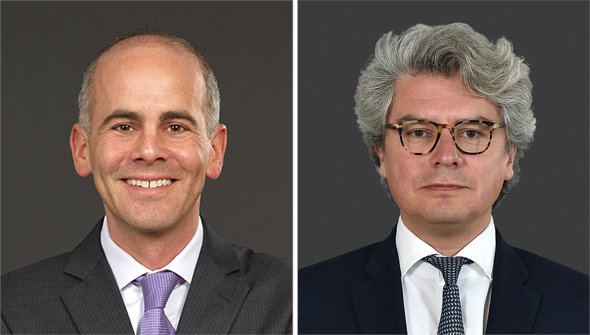 Adv. Jeremy Lustman (left) of DLA Piper Israel and Adv. Christophe Bachelet of DLA Piper Morocco. Photo: DLA Piper

"Ever since the relationship establishment between Bahrain and Israel and following the visit of Israel's Foreign Minister Yair Lapid last week, new winds of hope and innovation have begun blowing in the kingdom," said Mohamed Toorani, Partner and Head of DLA Piper office in Bahrain, adding that "our clients have more confidence asking us to refer them to our colleagues in Israel, a request they wouldn't have said out loud prior to the accords. It completely changed their perspective."

Adv. Richard Hughes, a partner at DLA Piper in the UAE who specializes in corporate law, mergers and international acquisitions, commented on the sense of change in the country and noted that there has been a significant change. "There had been no interaction between the countries until recently, and within a very short timeframe we received a lot of deals coming from Israel. Two years ago, I could not foresee such vast progress and development. The UAE is particularly interested in the technology sector. There is a desire to import knowledge and expertise in the areas of fintech and adtech."

When asked about the reasons why local businessmen are interested in Israel, the answers were varied. According to Adv. Christophe Bachelet from Morocco "In Morocco many people work based on intuitions. We are a small country looking for where to invest. A few years ago, there was a trend of investing in Africa, so all the locals invested there. Then the experts recommended the United States, so all investments moved there. Now the hot trend is Israel."