8200 Impact's 7th cycle kicks off with a slew of new startups
The five-month program will host physical workshops, events, and meetups with entrepreneurs
Today marks the formal opening of the seventh cycle of 8200 Impact, an accelerator program for startups looking to solve significant social problems. Following an application process starting in the summer, 12 startups will join a five-month program that will benefit from physical workshops, events, and meetups with entrepreneurs and professionals across a variety of domains.

"We're happy to grow the 8200 Impact community and welcome 12 new startups that aim to tackle a significant social or environmental challenge with advanced technological solutions," said Chen Shmilo, 8200 Impact Managing Director. "This year we have been joined by four gigantic players in the tech ecosystem, which certainly shows the growing interest in impact-tech startup and impact investments. The 8200 Alumni Association will continue to support the tech-ecosystem for the sake of the society and economy."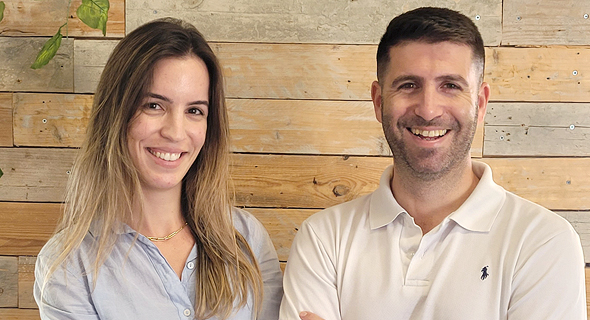 Chen Shmilo with Mirel Vansovski, Manager of Value Creation and Community. Photo: 8200 Alumni Association

This year the program has established two new tracks: Healthtech in partnership with IMED and 8200Bio with three startups participating. They join existing tracks Energy and Environment, Accessibility, and a general Socialtech track. A list of the 12 companies is as follows:
Wide - a personalized digital platform for young children diagnosed with developmental disabilities to help them overcome daily challenges

alteco - an energy management platform to display the visibility of energy consumption to help customers control their use and expenses
BridgeIT - a solution for 'digital immigrants' to regain their independence and confidence through digital add-ons to help them with online processes
Arrows - a wearable personal assistant to offer a solution to people with autism or other communication difficulties to increase their confidence and self-efficacy
ChromePay - a financial platform that caters to those that operate within the informal sector by implementing agency banking services, transaction-linked digital IDs, and financial education to promote financial literacy
Via-Cool - a learning system that uses data to help retailers and trade companies with business decisions by providing insight into fresh fruit and vegetables and their shelf life
FertilAI - a tailormade SaaS platform to tackle the complicated workflows between doctors and patients in the fertility field to improve success rates in IVF treatment
Yalmo - a personalized digital platform for tracking and improving the behavior and sleep of autistic children
MindsView - a unique IP to help optimize the performance of AR by matching the user's view with the system's video stream in the civil medicine field
Ormic - a three-module Alert and Recommendation Center for fire-risk management which uses national data to provide authorities with life-saving information during emergencies
SoLED - a patent-based IoT water disinfection device built for rural areas based on UV-LED technology to lower costs and increase disinfection effect
EMust - a SaaS solution for efficiency and sustainable environment management for SMEs that offers industry collaboration with any environmental service providers

The opening event will take place at Naschitz Brandes Amir law firm, one of the program's partners. In total, 8200 Impact is supported by Partner Israel, ICL, Naschitz-Brandes-Amir, Amdocs, Bank Hapoalim, Nefesh B'Nefesh, Tel Aviv Municipality, UJA Federation New York, Harel Insurance, MFI Initiative, IMed TLV, Ford Motor Company, and Doral Energy.

8200 Impact was founded in 2013 by alumni of 8200 and the 8200 Alumni Association and is the first acceleration program dedicated to impactech startups looking to solve social or environmental problems. To date, alumni companies have raised more than $58 million and created over 170 jobs.