Wiz hit $6 billion valuation on $25 million annual revenue
The Israeli cybersecurity startup saw its valuation more than triple over the past six months. "We will not sell the company. We will take it public. We have record-breaking results in every aspect," said CEO Assaf Rappaport
Israeli cybersecurity company Wiz continues to break records, announcing on Monday that it reached a $6 billion valuation in its latest funding round in which it raised $250 million. The surge in valuation from $1.7 billion less than six months ago is especially dramatic considering the startup only began selling its product one year ago and will end the year with around $25 million in annual recurring revenue (ARR), and possibly even $30 million.
According to figures obtained by Calcalist, the first quarter in which Wiz registered sales was the last quarter of 2020 when it recorded $2.3 million in ARR. That grew to $6 million in the subsequent quarter and then reached $12.1 million. In the third quarter of this year, Wiz's ARR hit $18.1 million and the expectation for the fourth quarter of 2021 is to reach an ARR of at least $25.7 million.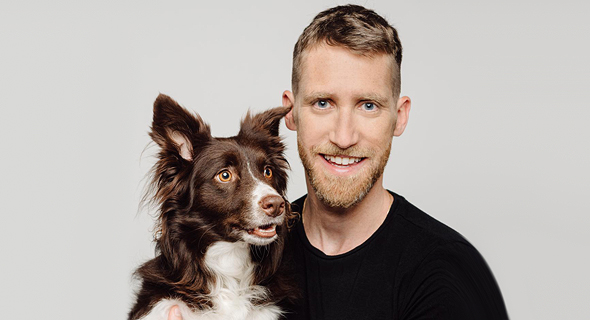 Wiz CEO Assaf Rappaport and his dog. Photo: Nathaniel Tobias
Wiz operates in a very competitive market, which is what has led CEO Assaf Rappaport to try and accelerate the company's growth as much as possible.
"There are several reasons for the valuation we received," Rappaport told Calcalist. "The first is the surge in our revenue and the clients that are choosing us. We are very successful with Fortune 500 companies, which are the most difficult clients to get. These are clients who aren't concerned with the price, but are more interested in the product and ensuring it will stop the constant attacks they are under. In addition, we have built a team of 180 people which is one of the strongest teams in the sector, both from a technological and business standpoint."
Of the $600 million raised by the company to date, $65 million has been allocated to secondary deals.
"Wiz is going public, but we aren't at that stage yet and still have a long way to go," Rappaport added. "We will not sell the company. We will take it public. We have record-breaking results in every aspect. No investor has ever seen growth like this and that is significant. I believe that we will also be able to exceed the current performance and not just maintain it."
The latest funding round was led by Insight Partners and Greenoaks Capital. Previous rounds included Salesforce Ventures, Index Ventures, Blackstone, Advent International, Sequoia Capital and Cyberstarts. Private investors in the company include Bernard Arnault, the boss of Moet Hennessy Louis Vuitton (LVMH) and one of the world's richest people, and American billionaire Howard Schultz, who served as CEO and chairman of Starbucks for 14 years.
Wiz's cloud-native product is in use by dozens of clients, including 15% of the Fortune 500. The company employs 180 people, mostly in Israel and the U.S.
Before founding Wiz, Rappaport was General Manager of R&D at Microsoft Israel after having sold his previous company Adallom to the tech giant for $320 million in 2015. Wiz's other co-founders Ami Luttwak, Yinon Costica, and Roy Reznik, have been with Rappaport since his days in the military and filled various roles at Adallom, too.
"Wiz's growth in the enterprise market is astounding. When you have a proven leadership team like this that's built a game-changing product, you bet big. Wiz is building security technology the world needs," said Jeff Horing, Insight Partners co-founder and managing director, who also serves as a Wiz board member.