Opinion
This Mental Health Day, let's take a look at social media
The ethical, legal, and social issues raised by this emerging intersection of mental health and digital innovations are non-trivial, writes Prof. Dov Greenbaum
Global Mental Health Day was earlier this week. Perhaps these past couple of years, more so than any others in recent memory, have created the perfect storm in the area of mental health. The continued influence of social media is only becoming more pervasive, especially among digital natives, those who have grown up under the ubiquitous shadow of the internet. And, with the pandemic still ongoing and the economy still failing to fully recover anxiety and depression are continuing to rise.
The digital world can be both a sword and a shield when it comes to matters of mental health. Data suggests that mental health declined overall with the concomitant rise of social media. Whether that is a correlation or actual causation remains to be seen. However, a Wall Street Journal Investigative team recently uncovered that Facebook's own leaked data showed that Instagram had a substantially harmful effect on teens and was central to developing poor body images for one-third of all teenage girls on the site. Those revelations just recently became part of a Congressional subcommittee oversight with some US Senators going so far as to say that Facebook should keep kids off of Instagram. Representative Ken Buck of Wisconsin even equated Big Tech and Social Media with Big Tobacco given their caginess in acknowledging the negative effects of the technology on children.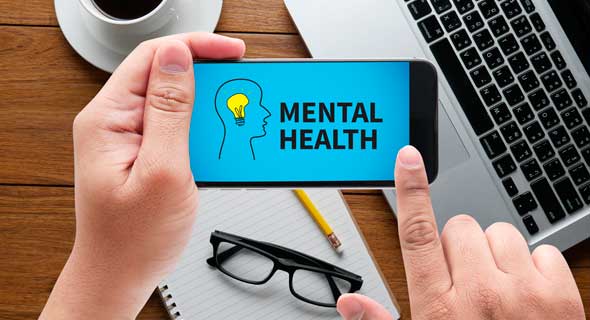 The digital world can be both a sword and a shield. Photo: Shutterstock
In further drawing a connection between Social Media and mental health, the OECD and WHO both report that in those countries where the internet and social media are pervasive, both extremes, i.e., having no online presence or having too much of an online presence can be detrimental to the health of the digital generation. Overuse of digital technologies can in addition to the aforementioned body image concerns, also result in sleep deprivation, excessive contact with violence online and in games, and increased contact with cyberbullies. Surprisingly though, having some limited internet use, like Goldilocks, seems to provide a net benefit to children, especially in fostering a sense of social inclusion.
However, it's not all bad. Accessible and relatively affordable digital technologies ―including online tools for meditation and access to therapists both AI or human, telemedicine innovations, over 10,000 mental wellness apps, and tracking wearables that are always available to detect and diagnose mental health conditions― carry less social stigma and can even expand access to mental health care. These technologies can especially be helpful in the early stages before a mental health problem becomes a crisis.
In addition to expanded access to mental health technologies across the general population, many minority demographics can also benefit from emerging analytic tools that seek to identify mental health issues for early intervention, especially communities that tend to not seek out mental health support.
Of course, it remains to be seen as to the quality and reliability of these technological tools, although assessment and governance tools are being developed. Additionally, we still have to suss out the nature of the legal relationship between online therapists and their clients, especially with regard to liability, confidentiality, privacy, and the use of collected data, anonymized or otherwise by associated third parties.
The use of these tools can also raise significant concerns especially with regard to any liability, if any, for false negatives that fail to find individuals at risk, as well as false positives that wrongly tag people as potentially suffering from mental health concerns. Pervasive stigma associated with being labeled as one suffering from mental health issues can be destructive for those individuals and might ultimately lead to mental health issues, where none previously existed.
In addition to the advent of digital tools that diagnose your state of mental health based on directed user input, there is also a recent effort by Apple to use data related to unconscious actions, things like mobility, sleep patterns, and even how people simply input data into their phones to diagnose mental health conditions. Similarly, Amazon has a patent for a future use of Alexa wherein they aim to determine the emotional characteristics of a user simply through their voice inputs.
The ethical, legal, and social issues raised by this emerging intersection of mental health and digital innovations are non-trivial. The Zvi Meitar Institute at Reichman University aims to discuss and perhaps begin to tackle some of these concerns at a live and unzoomed upcoming conference on October 27th.
Prof. Dov Greenbaum is the director of the Zvi Meitar Institute for Legal Implications of Emerging Technologies at the Harry Radzyner Law School, at Reichman University