Former Mossad chief focusing on business, not bad guys, in first public visit to Abu Dhabi
Yossi Cohen, who currently heads SoftBank's investment operations in Israel, is visiting the UAE as part of the Beyond Business 2 delegation organized by Bank Hapoalim, in collaboration with the Israel Export Institute
"I'm excited about my new life and my new career. I'm not chasing the bad guys. Terrorists and the Iranian problem no longer concern me," former Director of Mossad, Yossi Cohen, who currently heads SoftBank's investment operations in Israel, said on Sunday in Abu Dhabi.

Speaking at the Beyond Business 2 forum, an Israeli business delegation organized by Bank Hapoalim, in collaboration with the Israel Export Institute, Cohen said that he's "excited to be here in an official, public and open visit. I can say that the leaders of Israel and the UAE met in secret many times before the accords were revealed with the aim of creating trust between the leaders and the people.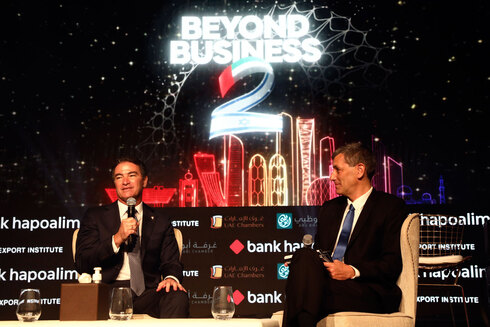 Yossi Cohen (left) at the Beyond Business 2 forum. Photo: Sivan Faraj

"The potential of both countries is massive," added Cohen. "We have the brains, courage and sense of innovation and we have only gotten started. I was born in Jerusalem and my grandparents spoke Arabic, so for me I'm here with my family. I'm currently in business and not thinking of getting into politics. I plan on investing my time and effort to succeed in this sector."

Mohammed Ali Al Shorafa, Chairman of the Abu Dhabi Investment Office, added: "Today, one year after the signing of the Abraham Accords, and thanks to them, we have become partners. We are cementing the partnership between Israel and the UAE and it is amazing that there have been deals reaching $1 billion between the countries in just one year. Without economic prosperity the hope of stabilizing the region will only remain a hope and a dream."

Bank Hapoalim CEO Dov Kotler said: "The bank is happy to continue trailblazing into new markets for its clients. Bank Hapoalim has adopted a strategy of leadership in the UAE and this current delegation will be a trailblazing delegation in making connections with Abu Dhabi, which is well known as being one of the most important global centers for finance, trade and hi-tech. Alongside all the activities with local businesspeople, all of the delegation's participants are invited to showcase their activity in the Dubai Expo, which is one of the most important exhibitions in the world and will allow Israeli businesspeople to make connections in this important platform."

Adiv Baruch, the Chairman of the Israel Export Institute, noted: "The business delegation embarking to the UAE one year after the Abraham Accords is another level in the joint activity between the countries. Since the agreement we are seeing the economy changing the region and acting as a diplomatic foundation for the strengthening of relations."