"Israeli fintech companies have an incredible opportunity for investments in Abu Dhabi"
Sabah al-Binali, head of the Gulf region at OurCrowd, welcomed Israeli investors in a panel on fintech investments held by Abu Dhabi Global Market (ADGM)
"Over 20 different banks operate today in the UAE, but there is no justification for that amount. Eventually, the banking system will have to undergo a process of consolidation in which only five banks will remain and 15 will disappear. So Israeli fintech companies have an incredible opportunity for investments in this field here," said Sabah al-Binali, head of the Gulf region at OurCrowd, in a panel on fintech investments at ADGM - Abu Dhabi's international financial center and free zone.
Sabah al-Binali, head of the Gulf region at OurCrowd. Photo: Sivan Farag

Monira Hisham Al-Kuttab, the executive director of ADIO, the Abu Dhabi Investment Office (ADIO), also highlighted the opportunities in the region for Israeli fintech and information security entrepreneurs. "We see huge potential for partnerships in the financial services industries, thanks to Abu Dhabi being a leading fintech coordinator and thanks to ADGM's support for businesses. Through our private sector empowerment programs and tools, ADIO will continue to support Israeli businesses and will help them succeed in Abu Dhabi."

The event was attended by members of the Beyond Business delegation including representatives from Israel's Bank Hapoalim and the Export Institute, bringing together leading Israeli businesspeople and government officials, and senior businesspeople from the UAE.

Among the topics discussed at the forum were the best ways for Israeli businesspeople to seek and make an investment in Abu Dhabi, the benefits of investing in regional ventures, and an overview of key highlights and future opportunities for trading and investing in financial services.

In addition, six Israeli companies presented their candidacy as part of "The Search", a fintech competition taking place this year in Abu Dhabi, aimed at locating the leading startups in the world in the fields of fintech and cyber. The Israeli start-ups that are presenting in the competition are Nayax, Blender Financial Technologies, TenureX, CRiskCo Israel Ltd, Neema, and ThetaRay.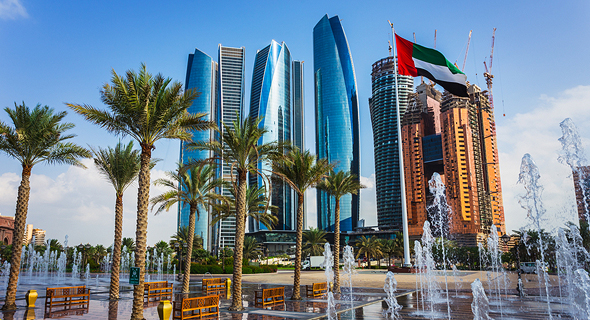 Abu Dhabi skyline. Photo: Shutterstock

Prof. Leo Leiderman, Bank Hapoalim's Chief Economic Advisor said that "fintech is a means to provide economic service to households, corporations, and companies, and the economic regulation will be clearer with its help. Fintech is a marathon in which cooperation between countries is something that is built over years. Banks have a method of risk management and we are also subject to oversight by the Bank of Israel. But we also need financial education. Fintech does not exist without the right financial education. Like everything else in banking, risk management is an important tier in fintech."

According to Leiderman, the development of fintech is affected by noises coming out of the financial markets such as a huge increase in world wealth or aggressive governmental policies during Covid. The central banks, in Leiderman's estimation, will ultimately impose new restrictions on the market and this will affect its cash flow. "This is an opportunity for fintech to prepare for various scenarios of risk and changes in the market. Black swans will always appear and we need to be ready. Last year was a year of deficit mainly due to Covid, but now we're recovering.

"It is good to know the UAE and Israel succeeded in managing the Coronavirus crisis. The two economies were the first to come out of the lockdown, which allowed them to rebuild their economies," Leiderman said.

Dov Kotler, CEO of Bank Hapoalim, referred to the will and endurance required from fintech entrepreneurs until relationships with financial institutions in the Gulf region mature. "Young startup entrepreneurs need to know that fintech and startups are a marathon, not a sprint," he said.

Kotler also turned to the heads of ADIO who hosted the forum saying, "We fulfilled our promise and came here for the third time, and now it's time for you to come to us in Israel. Our delegation has smarter, younger people than we are and we have a lot to learn from them. We came here for the benefit of mutual enrichment, to learn from each other, and to exchange opinions."