Round B
Even today, slow and steady wins the race
"In a market largely driven by an 'all or nothing' mentality, it is no longer enough to showcase a quality product," writes Shaul Olmert, however, "trying to convince investors, and yourself, that you have superpowers is a very bad idea"
We live in a wonderful age of overnight success. A young girl opens a TikTok account and with her creativity gathers tens of millions of followers, a boy who auditions for a reality show and three minutes after singing sits atop Spotify's most-played list, a startup that soon after its establishment raises huge capital or completes an exit, and more.

Ideas such as early retirement, quick enrichment, significant asset accumulation in a short time or global publicity in the blink of an eye drive people to try and dare, but also distort the perspective and result in a chase after success itself, rather than the meaning behind it.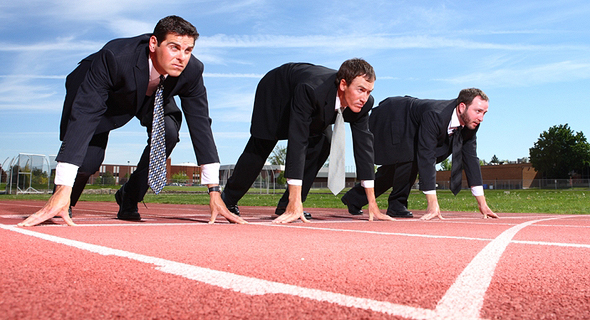 "These days, it is harder to raise initial capital for ventures with a potential market that is not necessarily worth tens of billions of dollars." Photo: Shutterstock

In an era where high-tech news coverage, for example, does not report on investments or exits that ​​are perceived as low today, although were once considered imaginary (for example a five million dollar investment does not justify a newspaper headline today), there is a false impression that something that hasn't scaled a new high doesn't have the right to exist.

These days, it is harder to raise initial capital for ventures with a potential market that is not necessarily worth tens of billions of dollars. Investors' appetites are growing and they are concentrating on finding a goose that will lay huge golden eggs, which is why they tend to pass on less ambitious business opportunities, which in the past (just a few months ago) were seen as having huge potential.

It would be a shame if the current generation of entrepreneurs would only focus on reaching the heavens, concentrate only on markets and fields that are perceived as having great potential, and will neglect other areas with a lot of room for innovation and value creation, even if their potential valuation is "only" a few hundred million dollars and not billions.

One of the challenges that young companies face is at the feasibility stage. In order to gain the trust of investors in the seed phase (usually after the company has developed an initial version of the product but is still in its first steps of marketing it), developers are expected to demonstrate the first signs of customer traction. However, in a market largely driven by an "all or nothing" mentality, it is no longer enough to showcase a quality product, strategy, and roadmap. One needs to convince investors that he is on the road to phenomenal success, because (hyperbole speaking, of course, but the point is valid) they do not have the time to waste on ventures that will never reach Facebook or Google's scope (or at least monday.com, Wix, or ironSource).

This puts a significant challenge in front of young companies because value creation takes time, and even if there are occasional stories of companies soaring to meteoric value and success in a short time, the vast majority need time to build real value, and the pursuit of immediate results that will justify large fundraising is not only unrealistic for most, but it also forces them to look for artificial "signals" instead of investing in the essence and producing long-term value.

Many entrepreneurs come to me for consultation and look for a way to showcase those initial market response signals that will excite investors looking for the next decacorn. They try to extract from their database cohorts that will testify to pockets of meteoric growth, small-scale experiments that yielded good results at an abnormal level, or data segmentation and correlation between different factors that create a theory that no one else but them can follow and can be used to prove that today, a year or two after the establishment of the company, and only a few months after the initial meeting with the market, it is already clear that they are on their way to the stratosphere.

This process is destructive to a company. A young company at such an early stage does not have to prove that it is Wix, because most companies are not. Furthermore, neither Wix nor companies like it were built in a day, and even they once found themselves going out to raise capital at stages where their success was yet to be proven, and its first signs were not yet apparent.

Beyond the sad reality in which many of these great ventures will not be able to raise capital in a climate that expects overnight success, their very pursuit of meteoric success instead of concentrating on a slow and thorough process of value creation hurts their chances of success in the future. Managers find themselves spending unnecessary money on marketing a product that is not yet ready for the market and 'go all in' with the desperate hope of producing signs of success or at least the appearance of such.

Still, even if the reality is extreme and sometimes feels crazy, when the coffers are thinning you need to go out and raise funds, you need to speak in a language that investors understand and try your best to speak to their liking. So how do you do that? How do you choose the right indicators that will convince investors of your future potential, even though there is such an exaggerated and destructive expectation of their mere existence at such a relatively early stage?

The best answer I can give entrepreneurs at this point is to look inward and ask themselves what goals or milestones will testify for them (not for the investor) that their venture is on the right track. In other words: if it was your money, what would convince you that it was worth investing in?

The answer, of course, is different for each venture depending on its goals. At Piggy, for example, the product is starting to ripen (and becoming really fun!), however, it is still not ripe enough for us to fully step on the gas pedal and try to gain a large user base. In our strategic view, we believe that our basis should be built upon the ability of end-users to produce meaningful content with the help of the app. There will still be many more challenges left after that. How to get users to produce content frequently, how to help them reach a wider audience, how to create virality in structured distribution, etc. But the basis for us is the creative process.

When I roll over in my bed before falling asleep (on nights when there are no NBA or MLB games) I think of ways to improve the content creation process. Hence this is the field where I can prove to myself, and potential investors, that we are on the right path. Those are the key elements with which we will go and raise our next capital soon, hoping to find people who share our vision and believe in the team and strategic plan we have built, without trying to "sell" them that three months after the launch of our initial product we are on our way to being the next TikTok.

Putting the issue of raising capital aside a second, I also truly believe that the more we concentrate on these goals and see how to optimize the performance they attest to, the more mature and valuable our product will be. Ultimately we are here to generate value, not to sell stocks (and yes, I am aware that some newly rich people prove the opposite).

Every time an entrepreneur approaches me at a similar stage, I try to help them understand what really is at the foundation of the product or service that their company is building, and accordingly define the relevant indicators. It is a deep process of looking inward and defining for yourself what the core of your company is, and identifying it, is also the key to proving market potential.

At the previous company I ran, Playbuzz, we reached a similar stage after raising our initial capital, and to my delight, we were able to convince investors of our potential based on the product plan, staffing, and strategic plan. The meteoric growth that they, and we, too, dreamed of, came only at a later stage.

And if today we are in a different and crazy era, where investors do not attach enough significance to these milestones because their eyes are blinded by those isolated and rare cases of companies that blazed through the long journey that a "normal" company undergoes in several years, there is probably no choice but to keep a low spending profile for a longer period, to look for alternative financing on a smaller scale than venture capital funds, and to recognize that even if the market has an unrealistic expectation that you will skip ten steps forward overnight, you are building a company to generate real value and not to dazzle those who are chasing gold and deceive them with "miracles."

Trying to convince investors, and yourself, that you have superpowers is a very bad idea. It is best to look for investors who look at the essence and impress them by keeping your feet on the ground and not letting the gold rush around undermine your perception of reality. In my eyes, these will be the entrepreneurs who will succeed in the long run, and I work hard to be one of them.