Making peace in space: UAE will join Israel's next Moon mission
The next Israeli spacecraft will feature the flags of both the United Arab Emirates and Israel, and the countries will also use data from an Israeli-French satellite that monitors climate change to issue a call for proposals to better the environment
Not long after the signing of last year's Abraham Accords between Israel and the United Arab Emirates, many hoped this would bring peace between both nations that otherwise had no official contact or diplomatic relations. Israel has been looking for countries to partner with on its ambitious upcoming Beresheet 2 mission to the Moon, which is scheduled to take place by the end of 2024 after SpaceIL recently completed the required funding to begin construction of the craft in July. It has now found a partner in the UAE after the two countries signed an agreement in Dubai on Wednesday, which will see both countries working together on several projects, including the Beresheet mission, and have the UAE participate in research on Israel and France's existing Venus weather monitoring satellite. The agreement came following Israeli Minister of Science, Technology, and Innovation Orit Farkash-Hacohen's recent meeting with her Emirati counterpart, Her Excellency Sarah bint Yousef Al-Amiri, who serves as the Emirati Minister of State for Advanced Sciences, is chair of the UAE Space Agency and the United Arab Emirates Council of Scientists, and also Deputy Project Manager of the Emirates Mars Mission.

A delegation of SpaceIL representatives, led by entrepreneur and philanthropist Morris Kahn along with SpaceIL CEO Shimon Sarid and Daphna Jackson, Director and CEO of the Kahn Foundation held a number of meetings with senior Emirati officials to discuss the principles for cooperation. One of the companies which is considering investing in the lunar mission is the Abu Dhabi-based Group42, an artificial intelligence and cloud computing company that develops scalable solutions.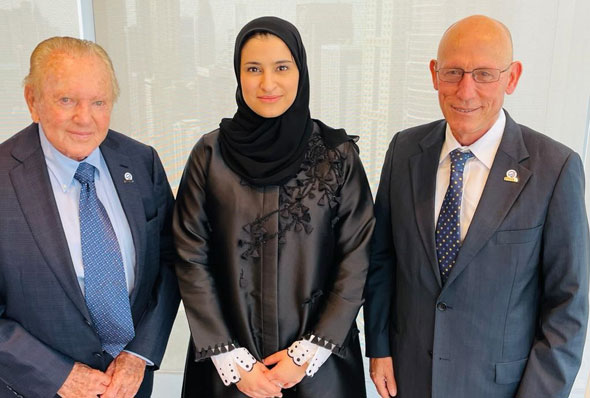 SpaceIL CEO Shimon Sarid, Sarah Al-Amiri, and Morris Kahn (from right to left). Photo: SpaceIL

As part of the collaboration, the next Israeli spacecraft will be emblazoned with flags of both countries. The countries will also share technological, scientific, and educational expertise as well as financial assistance toward building the craft which will later encourage further cooperation between Israel and other Arab countries. The project will also have an impact on the next generation of young schoolchildren who will participate in the educational aspect of the mission, in particular with ongoing correspondence with the orbiter, which plans to orbit the Moon between a two and five year period.

Israeli companies are well-known for developing advanced precision agriculture technologies. In 2017, Israel and France developed a weather monitoring satellite, Venus, which has been orbiting the Earth for five years, and monitors human influence on soil, topography, and climate. The Venus satellite attains high resolution, multispectral images of specific sites around the world in an effort to identify climate changes. The Israel Space Agency and the UAE Space Agency will publish a call for joint research, which will be based on the satellite's data, and examine phenomena related to Earth's depleting resources, precision agriculture, desertification, monitor bodies of water, and more. These are issues that remain at the forefront of international research in an attempt to combat the growing global climate crisis, and are a significant area of concern for both arid countries.

The Venus satellite was built with the French Space Agency (CNES), and provides researchers with dozens of images every day, each of which cover about 730 square kilometers. Its cameras are capable of taking a picture once every two days at exactly the same angle and location, which provides researchers with accurate changes in vegetation, soil, bodies of water, and the atmosphere. The satellite was constructed by Israeli defence giants, including Elbit Systems Ltd, Rafael Advanced Defense Systems, and Israel Aerospace Industries, and is monitored daily by researchers at the Jacob Blaustein Institute for Desert Research at Ben-Gurion University of the Negev. Last year, the satellite nearly collided with NASA's veteran environmental research satellite, Terra, but disaster was averted, and the collision was prevented.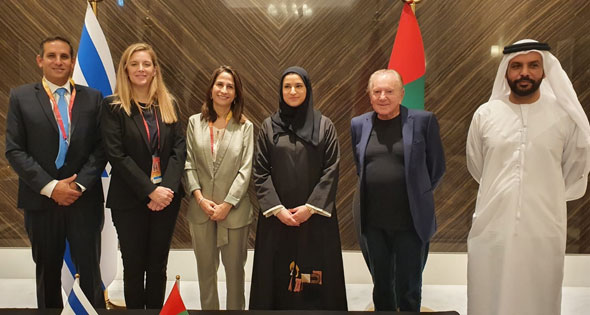 The official signing of the agreement in Dubai on Wednesday. Photo: Ministry of Science, Technology, and Innovation
"Governments sign agreements but people and collaborations are the ones that truly make peace. Israel is an international leader in the worlds of research, space, science and high tech. Today on behalf of the Government of Israel, I am pleased to sign a series of agreements for cooperation with the UAE Space Agency in important and groundbreaking fields. I thank the Minister of Advanced Technologies Sarah Al-Amiri for the significant, collaborative work done in the last year between the two agencies. Thanks to this work we are already launching advanced initiatives for the benefit of our children's education and joint research. I share Minister Al-Amiri's vision of harnessing science and space not only as an economic stimulus but also for bringing hearts together and educating our next generation," Minister of Science, Technology, and Innovation Orit Farkash-Hacohen said at the signing ceremony.
"Over the past few months, we have forged a strong and strong relationship with senior UAE officials who seek to establish a deep relationship based on our shared values ​​of education and technology, and hope to inspire the younger generations of both countries. We are proud to be the first project to pave the way for further historic missions. Since the Abraham Accords, we have been hashing out the details so that we may merge our common paths," said serial-entrepreneur Morris Kahn, who invested a hefty $40 million sum in the previous lunar mission.
Shimon Sarid, CEO of SpaceIL, stated: "SpaceIL has made a point to promote scientific education on a regional and global level, and in doing so contribute to the processes of normalization and regional peace through collaborations with peace-seeking and science and space-loving countries. SpaceIL is pleased to cooperate with the Emirati Space Agency, alongside the Ministry of Science and the Israel Space Agency."