Continental to monitor truck tires using Traffilog's tech
The German tire manufacturer will use the Israeli company's system to remotely prevent faults in heavy vehicles
German tire giant Continental will remotely diagnose the condition of truck tires to determine when to replace them using technology from Israel's Traffilog, the latter has announced. Continental, will be the first tire manufacturer to offer such a service.

The Israeli company's platform will monitor air pressure, tire temperature, traveled distance as well as speeds, and based on the data will determine when the tires accumulated wear and tear and require replacement. The system relies on data from sensors in the tires and the vehicles' computers, it processes them and sends the findings to the cloud.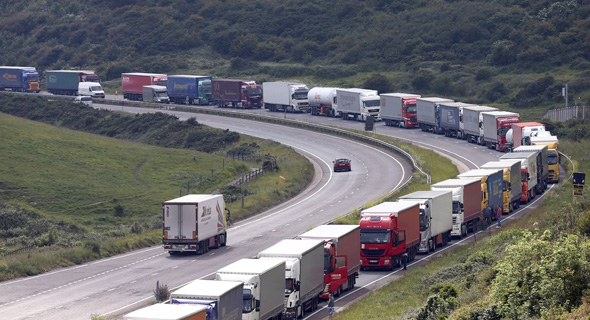 Trucks queue outside Dover port in the UK. Photo: Getty Images

The heavy vehicles industry began moving towards real-time maintenance in recent years based on wear and tear analysis, instead of predetermined maintenance. Traffilog already provides such services to companies in Israel and heavy machinery operators such as bulldozers.

A truck tire costs about 1,000 euros and is about 5% of the cost of operating the truck, but it has an impact on 40% of the costs, including fuel consumption and road accident repairs caused by incorrect air pressure or worn tires.

"The system we developed with Traffilog is expected to significantly increase Continental's sales in the coming years. We expect tens of millions of dollars in sales in the next three years as we first launch it in the U.S. and Europe," Thomas Strohmeier, Continental's business development director in Israel, told Calcalist.

Coby Hasson, chief revenue officer of Traffilog, who is also responsible for the project on behalf of the company commented that "the entire field of transportation is changing, and tires are becoming a service, not just a product anymore. We will provide vehicle fleets with a deep diagnostic capability backed up by analytics that will allow for the prediction of their needs. The service will also be marketed in Israel."

Vehicle maintenance management and remote fault detection are not yet offered in private cars, but automakers are also targeting that sector. The goal is early detection of serial faults that are their responsibility, and the provision of maintenance services to customers throughout the life cycle of the vehicle, so that they will arrive at companies' garages even after the warranty expires. Israeli company Safe Ride, which has raised $17 million so far, is expected to launch such a service with one of the largest manufacturers in the United States in the coming years.