AutoFleet raises $20 million Series B for AI-based fleet management platform
The Israeli startup improves efficiency of existing fleet operations and enables them to access expanding on-demand mobility services
Israeli startup AutoFleet, which has developed an optimization platform for fleet owners and operators, announced on Thursday that it has closed a $20 million Series B round of funding. The round was led by KeyFrame Capital and included new investments from Fujitsu Ventures Fund LLC (Fujitsu) and The Goodyear Tire & Rubber Company (Goodyear). Existing investors, including Mizmaa Ventures, Maniv Mobility, and Next Gear Ventures also participated in the round.

AutoFleet was founded in 2018 by CEO Kobi Eisenberg and CTO Dor Shay, both former employees at Gett. The startup currently employs 30 people in its Tel Aviv offices. AutoFleet is active in 12 countries, managing tens of thousands of vehicles for some of the world's largest fleets.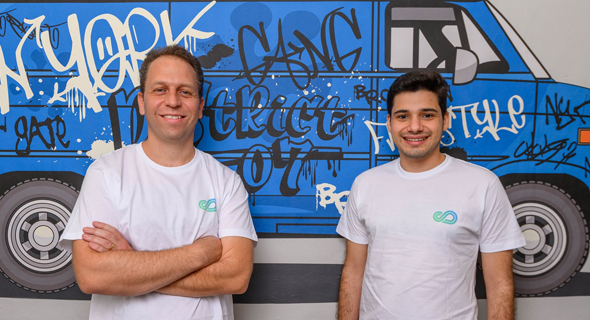 AutoFleet co-founders Kobi Eisenberg (right) and Dor Shay. Photo: Lior Grundman

AutoFleet's platform leverages advanced machine-learning models for real-time demand prediction, automated generation and management of maintenance/servicing tasks, optimized dispatching and routing and dynamic pricing to help existing fleets become more efficient. The robust and automated routing and dispatch engine allows immediate optimization of delivery/logistics services, passenger trips, and field service operations - all from a single platform.

Since closing its Series A last year, AutoFleet has scaled its operations in over 12 countries, partnering with fleets in key verticals, including Rental, Car Sharing, Ride Sharing, Taxi, Logistics and Micro Mobility, demonstrating significant improvement in the fleet's key performance indicators (KPI) such as reducing fleet downtime by 80%, reducing customer wait times by 15% and boosting utilization and revenues by 10%. Customers include Zipcar, Revel, Bluebird, Keolis and many others.