Amnon Shashua's A21 Labs raises $20 million from Walden Catalyst at $400 million valuation
Walden also announced the closing of its inaugural $550 million fund focused on deep-tech investments which has made six investments to date, including in Israeli startup Speedata
Walden Catalyst, an early-stage venture capital firm dedicated to deep-tech investments, announced on Monday that it has invested $20 million in Israeli artificial intelligence startup A21 Labs founded by Prof. Yoav Shoham, Ori Goshen, and Prof. Amnon Shashua. The company had previously raised $34.5 million, with serial entrepreneurs Shashua and Shoham also participating in all the investment rounds.

AI21 Labs' R&D team develops comprehensive language models. A language model is a computerized array that, through machine learning, can create clear text based on the words provided to it. One of the models developed by the company is Jurrasic-1, which uses more data than other models, about 250,000 syllables and words and 178 billion computational parameters.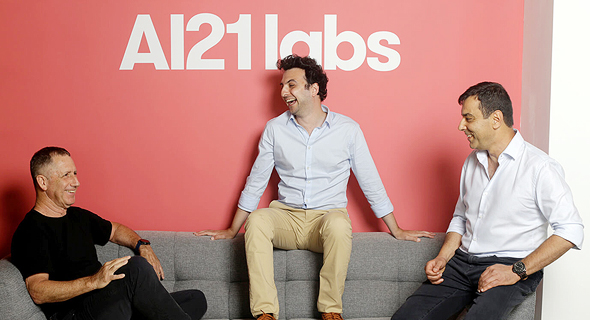 AI21 Labs founders Amnon Shashua (from right), Ori Goshen and Yoav Shoham. Photo: Courtesy

Walden also announced on Monday the closing of its inaugural over $550 million fund, with investors in the fund including leading institutions Silver Lake, GIC, Temasek, and SoftBank, and the CEOs of some of the world's largest tech corporations. The fund is dedicated to deep-tech investments in data and AI companies across the U.S., Europe, and Israel. Roni Hefetz, a seasoned VC, will lead the fund's activities in Israel.

Walden Catalyst Ventures is led by Young Sohn and Lip-Bu Tan. They are early investors in many of the most recognizable names in the tech industry, including Zoom, Habana, Meituan, Inphi, Verisilicon, and Mellanox, founded by Shashua. With more than 30 years of industry experience, Lip-Bu is the founder and chairman of Walden International. Most recently, he served concurrently as CEO of Cadence Design Systems. Young previously held the position of corporate president and chief strategy officer of Samsung Electronics, where he spearheaded Samsung's global innovation, M&A, and venture investing initiatives.

Walden said that it has already made six deep-tech investments, including in AI21 Labs, and Israeli startup Speedata, which has developed a processor to accelerate data analysis tasks in server farms and announced last September that it had raised $70 million.