Tech TLV
"If you cannot find what you are looking for in Israel, you are not going to find it"
UBS executive Paul McEwen was speaking about the Start-Up Nation's contribution to his organization at Calcalist's Tech TLV conference
"UBS Next has $200 million to spend and invest in promising start-ups companies and we are actively scanning the market for those opportunities," said David Yeger, Head of Automation Services at UBS on Tuesday at the Calcalist's Tech TLV conference. Yeger was speaking on stage to UBS' Global Head of Technology Services Paul McEwen, and reminded him that it was McEwen who said to him that "if you cannot find what you are looking for in Israel, you are not going to find it."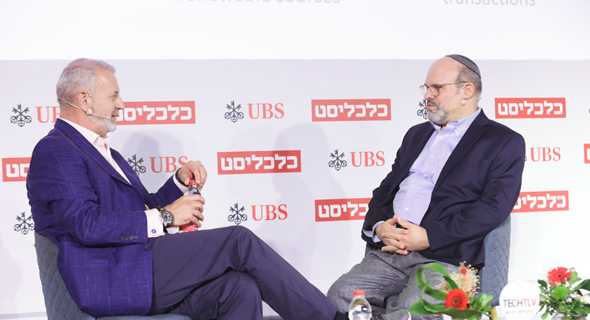 UBS' global head of technology Paul McEwen (left) and David Yeger, the head of automation services and head of technology at UBS Israel at Calcalist's TECH TLV conference. Photo: Orel Cohen
"We built the Israeli team for two reasons, one is the diversity of thought and the method of getting to the answer and to start tapping into the security capability of the Israeli market," Yeger continued, as the two Swiss bank executives discussed, among other things, the Israeli contribution to their organization's technological abilities. "Smart people, good ideas are not that easy to find, so as long the Start-Up Nation keeps producing good ideas and has a strong education system producing the right mind set it can go on forever," said Yeger, while McEwen mentioned several Israeli companies UBS has been working with such as Transmit Security, BigID and Guardicore.
McEwen raised the issue of workplace diversity stating he always believed the more diverse it is the better results a company gets, to which Yeger replied "our goal is to be able to build sustainable teams that when you hand them a goal they are able to go off and execute together. That requires different kinds of talent in different places and we had a specific goal to tap into the mindset and talent in the Israeli market and bring that diversity into our organization." .
"We get the right people in the right place and we empower them and we make them autonomous and we let them work in small groups, we give them specific tasks and we send them off. And more often than not they get it done. They pull resources from all over the bank, so we have 11,500 developers and it is almost impossible not to find someone who can help you solve the problem you are going after," Yeger concluded.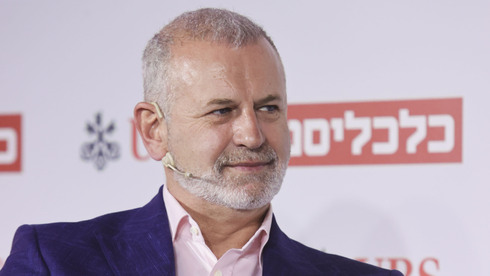 UBS executive Paul McEwen. Photo: Orel Cohen

McEwen also asked Yeger if he does not think many will describe their workplace as conservative rather than technological, to which the latter answered "we have been doing cloud work for years, be have been doing innovative stuff in the security space, as working from home became the norm our ability to do frictionless log-on using biometrics was best in class and we do some great stuff in the compute space, storage space our network is one of the most advanced in the world."

""That is how we stay ahead of the curve, we invest heavily in technology, I think you alone Paul have an organization of several thousand people and we invest around 3.5$ billion in spending per year into technology. we were able to morphe ourselves from being an in-the-office organization into an out-of-the-office organization because of the investments we made over the past seven or eight years, the only thing we had to upgrade to get the entire workforce to working from home was the firewall," Yeger added.

"We have been running augmented and virtual reality prototypes, we have tested pretty much everything on the market," Yeger said about future technological capabilities the bank is promoting. "But these prototypes are already up and running so the ability to take out your credit card and put your phone next to it and all of a sudden see all your transactions around it is something we built, we did and we demonstrated. The meeting group with the virtual reality glasses, we got that up and running and now it is a question of adoption and getting the technology to somewhere it is not cost prohibitive to implement."