Tech TLV
Gerry Livnat: UBS to establish R&D center in Israel
The General Manager of UBS Wealth Management Israel made the announcement at the Calcalist Tech TLV conference, emphasizing Israel's role as a cyber hub
Global wealth management giant UBS will establish an R&D center in Israel for the first time, General Manager of UBS Wealth Management Israel, Gerry Livnat announced on Tuesday at the Calcalist Tech TLV conference, which was held in collaboration with UBS. The center will initially employ up to 100 employees, it will help develop new tools and applications for both investment banking and wealth management.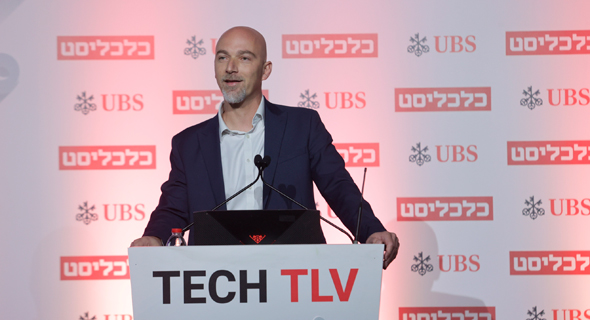 CEO of UBS Wealth Management, Gerry Livnat. Photo: Orel Cohen

Livnat explained the level of synergy that exists between the banking and tech industries, saying "20 years ago we had an understanding of how to build a long-term strategy for the customer, by properly dispersing bonds and stocks. But the nature of the activity was mostly tactical because we did not have the technological tools that exist today - thinking decades ahead. The technological tools help us build the capital strategy for clients over time. We can think of strategy in a variety of time frames - short and long term. In addition, all actions become digital, a move that enables us to oversee the strategy and maintain it at any given moment."

The danger: an AI attack

In recent years, hackers have been using AI (artificial intelligence) to bypass defense mechanisms and harm their targets. Livnat said at the conference that the use of AI by attackers is one of the major concerns of global financial institutions. He said some of these concerns have also led to the opening of the local R&D center. "We are concerned about potential information leaks and therefore invest a lot in the cyber field. The Israeli market is a cyber center, so it is important for us to hear about new developments and to be connected to the field."

UBS Wealth Managment manages $3.2 trillion in assets worldwide. According to Livnat, "when we look at investment portfolios we want to find out what the next trends are, and how we can plug into them and benefit from them. That is why it is important for us to be part of a technology conference."

Livnat also discussed the sustainable investment trend, which is gaining momentum in the industry. These investments, often referred to as ESGs (environmental, social and governance), take into account the environmental impact of the investment, company attitude towards employees, and the corporate governance of the company. "The World Climate Summit in Glasgow has been held over recent days to fight against global warming," Livnat said. "We hear about it a lot from our clients. They want us to create a better environment with our investments so we are proud to say that that across the group arealready managing more than $207 billion in sustainable investments. This thinking started with us a decade ago, but then it was too early to turn it into meaningful plays. Today, the situation is reversed - everyone understands that this investment is urgently needed and it is encouraged."