Fintech unicorn HoneyBook strikes sweet $250 million Series E, doubles valuation to $2.4 billion
The Israeli company, which has seen booking of more than $1.9 billion on its platform in 2021 alone, has raised over $400 million in the past six months
Six months after reaching unicorn status with a $155 million Series D, Israeli fintech company HoneyBook, founded by husband and wife Oz and Naama Alon, announced on Wednesday that it has raised a $250 million Series E, doubling its valuation to $2.4 billion. The round was led by Tiger Global Management with participation from Durable Capital Partners, Norwest Venture Partners, Citi Ventures, and OurCrowd.

Click to view Israel's complete list of unicorns

"I don't see us going on another funding round anytime soon," CEO Oz Alon told Calcalist. "Tiger Global made a minor investment in the previous round and after studying the company decided to invest as much as possible this time."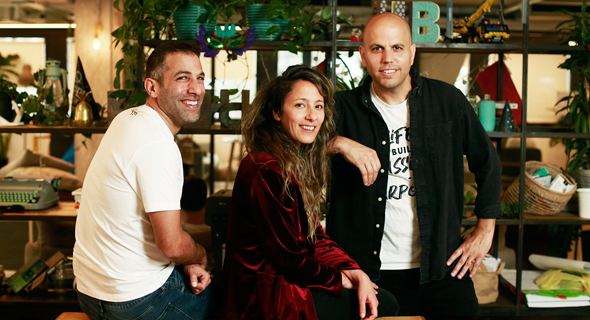 HoneyBook co-founders Oz Alon (right), Naama Alon (center) and Dror Shimoni. Photo: Amit Shaal

HoneyBook, which employs 130 people, develops an online business and financial management platform that allows small business owners to streamline all aspects of their business, automating workflows, contracts, and invoices. Other investors in the company include Battery Ventures, Zeev Ventures, and 01 Advisors. The company, which has more than doubled its ARR in the last year, was founded in 2013 by Oz Alon, who serves as the CEO, his wife Naama (Chief of Product), together with Dror Shimoni (CTO).

"We have grown in confidence thanks to the demand from the market and we decided to be more aggressive," explained Alon. "The improvement in our results over the past six months was very significant and we understood that we are experiencing consistent growth. We learned during the pandemic to act as if we've got nothing to lose and made decisions that were very beneficial for the company. You can make these types of decisions when you know that you have a lot of money that can sustain the company for many years. It allows you to build the company for the long run. We have learned that the market can change at any time and we decided that it would be a good idea to connect with very good investors who wanted to join at a fair price."

Tiger Global is one of the most active U.S. funds in Israel, investing in the likes of SentinelOne, Papaya Global, BigID, Rapyd, and more. "We will massively invest in our product and brand. We want everyone to know us and choose us and we will transform our product into a platform that developers can build on," explained Alon. "Most of our growth will be in Israel where we will recruit more R&D employees, designers, and more."

According to the company, which has seen booking of more than $1.9 billion on the platform in 2021 alone, there are currently over 12 million small and independent businesses in the U.S., and the trend is only gathering pace.

"Our platform has gone from being a technology-fintech platform to a vibrant community for small businesses and the self-employed," noted Alon. "The past year has changed the way in which we think of our clients, the way we reach them, and the services we provide them."