Anodot acquiring fellow Israeli cloud startup Pileus
The combined technology of the companies will integrate visualization, analytics, and cost savings recommendations
The past year has seen a dramatic increase in acquisitions of Israeli startups by fellow Israeli companies. Another such acquisition was announced on Tuesday when Anodot, a business monitoring company, announced the purchase of Pileus, a cloud cost management platform, for an undisclosed amount. Calcalist has learned that the amount is estimated to be in the region of several millions of dollars. The combined offering, powered by machine learning, is set to enable businesses to proactively manage and forecast their cloud costs.

Pileus was founded in 2019 and has raised just $1 million to date. Its 10 employees will join Anodot's team of around 100 workers. Pileus CEO Roni Karp will become Anodot's CTO. To date, Anodot has raised around $65 million from investors including Intel Capital, SoftBank Ventures Asia, Samsung NEXT, Disruptive, Aleph, and La Maison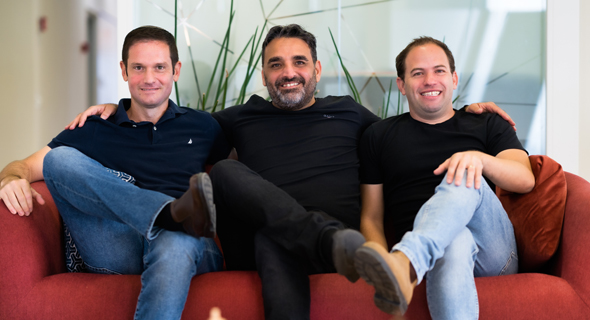 Anodot CEO David Drai (center) alongside Pileus co-founders. Photo: Courtesy

"We have witnessed first-hand the many challenges organizations face while attempting to manage their cloud costs," said David Drai, CEO of Anodot. "Historically, cloud pricing and billing have been a complicated undertaking for many organizations - until now. Today, Anodot joins forces with Pileus to combat this growing problem. Pileus is the only technology on the market able to provide granular intelligence, visibility, and control over cloud billing."

The combined technology of the companies will integrate visualization, analytics, and cost savings recommendations, all from a single platform. Data-driven businesses will benefit from AI-powered anomaly detection, correlation, and forecasting for real-time monitoring of all cloud environments, inclusive of Kubernetes-based services.