VC 83North big winner of DoorDash-Wolt deal, stake now worth over $1 billion
The Israeli VC led a $30 million funding round in Wolt in 2019 and is currently the company's biggest shareholder
Israeli venture capital firm 83North is one of the main beneficiaries of Wednesday's news that DoorDash is buying Finnish delivery service Wolt Enterprises in an $8.1 billion deal.

83North led a $30 million funding round in Wolt in 2019 and is currently the company's biggest shareholder, taking part in subsequent rounds as well. According to Calcalist estimations, 83North's 15% stake in Wolt is now worth around $1.2 billion and the VC is set to become a significant shareholder in the merged company once the deal is completed.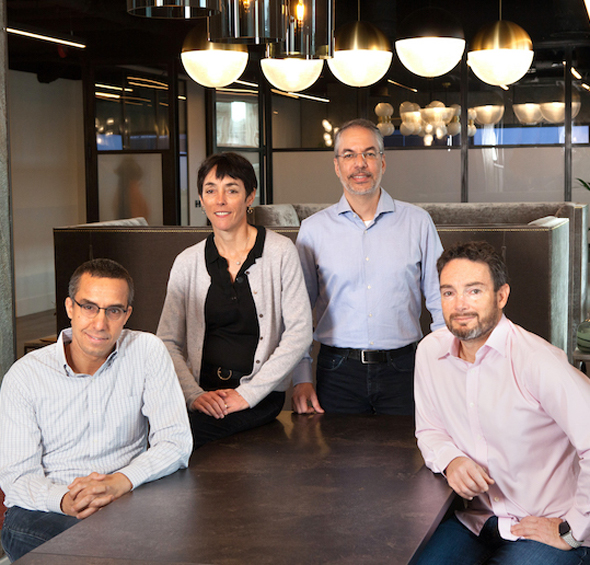 83North partners, Yoram Snir (from right), Gil Goren, Laurel Bowden and Arnon Dinur. Photo: Courtesy

Wolt has raised $813 million to date. 83North's investment in the company is one of many made in European companies by the Israeli VC, which allocates significant funds to global investments.

83North raised a new $550 million fund this past May. This is the VCs sixth fund and took its assets under management to $1.8 billion. 83North's investing team is led by four partners, Laurel Bowden, Gil Goren, Arnon Dinur, and Yoram Snir. The partners operate out of offices in London and Tel Aviv and invest in companies across the world.

83North closed its previous fund in 2019, raising $300 million for its fifth fund. Over the past two years, it raised an additional $200 million. Unlike other Israeli funds, 83North has put money in many companies in Europe and the U.S., investing in at least 12 new companies since 2019, taking the total number of companies it has invested in to around 80. 83North has registered over 20 exits in all, including at least six over the past two years, with more than 12 of the companies in which it has invested reaching a unicorn status (valued at over $1 billion). Among the companies 83North has invested in within Israel are the likes of ironSource and Payoneer, as well as CYE, Trigo, Zerto, Via, and many others.

Among the company's recent successes are the sale of Wandera to Jamf for $400 million and the IPO of fintech company Marqeta. Other success stories include the sale of Aeroscout (acquired by Stanley Black & Decker), iZettle (acquired by PayPal), and ScalelO (acquired by EMC).