Mind the Tech NY2021
"There is plenty of data, but it is difficult to use it"
Metrolink CEO Asaf Cohen was speaking at a Grove Ventures' roundtable during Mind the Tech NY 2021 alongside Active Fence's Tomer Poran, General Atlantic's Emmanuel Lagarrigue, and Navina AI's CEO Ronen Lavi
"Helping entrepreneurs be a part of the revolution is the best place to be," said Emmanuel Lagarrigue, a managing director at General Atlantic during a Grove Ventures' roundtable discussion chaired by the firm's general partner Lotan Levkowitz at Calcalist and Bank Leumi's Mind the Tech NY 2021 conference. "Technology produces a lot of value," he added, "this can be seen in an increase in life expectancy, which in turn, also produces more and more entrepreneurs trying to improve the system."

During the session, Tomer Poran, Active Fence sales VP, discussed online risks the cybersecurity company faces. "We see internet citizens as a vulnerable community," he explained. "Companies protect companies, but the users are very vulnerable. We try to protect platforms that serve large audiences, locate content such as human trafficking, child exploitation, terrorism, or fake news. We can protect billions of citizens with our work with the world's largest platforms. The reason we founded the company is to say - this is a war that should not be resolved through technology, but a war that must be fought. You can not fight this war if you do not understand how the bad guys operate, and that is what we are trying to do to identify and pursue the bad actors. "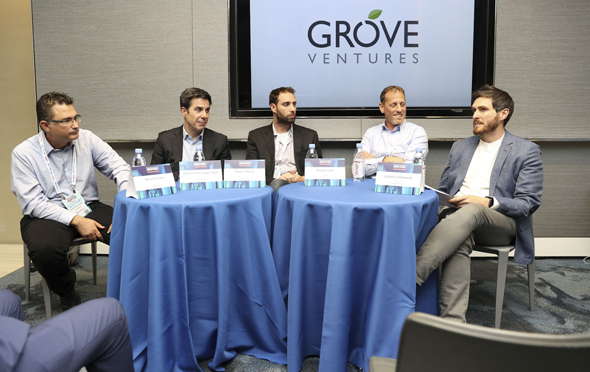 Asaf Cohen (left), Emmanuel Lagarrigue, Tomer Poran, Ronen Lavi and Lotan Levkowitz. Photo: Orel Cohen

"Most companies in the world face similar challenges," added Asaf Cohen, co-founder and CEO of Metrolink. "There is plenty of data, but it is difficult to use it. The company was founded on our common frustration from understanding that only a fragment of the collected data is being used, and everyone is waiting for someone to do something with that information. The solutions that exist today are either to bring in a lot of data scientists but there are not that many, trying to clear the data, or trying to bring in different solutions from the market. But no one really tried to solve the problem."

"We try to bring in a solution that brings flexibility, while also using those insights with simple tools. That way you can generate value from your data, so you will save a lot of money on storage and manpower, and furthermore, companies will be able to provide more services to more customers," he added.

"The question is also about expectation," said Ronen Lavi, co-founder and CEO of Medtech company Navina AI. "We try to produce personalized but accessible treatment. It is very difficult today for doctors to get all the information in preparation for meeting with the patient, in the new era the doctor should be given all the relevant details so that he or she can understand the patient better and quicker and give a good treatment."