N-Drip completes $20 million Series B financing led by Granot, the Kibbutzim's investment arm
The Israeli company will use the funding to expand its U.S. infrastructure and expand its operations in India
Smart irrigation technology company N-Drip completed Series B financing of $20 million this week. Calcalist has learned the round was led by Granot, the investment company of the kibbutzim of the Sharon region, which is also a partner in Tnuva. To date, N-Drip has raised $40 million.

Some of the investors in N-Drip's Series A round included the principals of Tene Investment Fund, Ariel Halperin and Ran Ben-Or, Bridges Israel impact investment fund, RDC, Kibbutz Ein Harod Ichud, and a group of American investors led by Seth Siegel, who authored the bestseller Let there be Water. Siegel serves as N-Drip's Chief Sustainability Officer.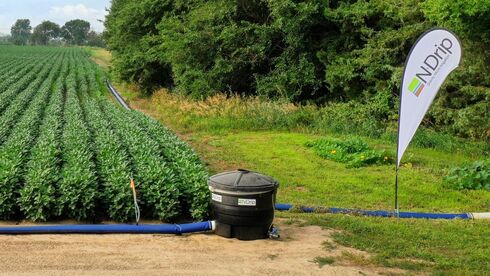 N-Drip. Photo: N-Drip

N-Drip will use the capital raised to expand its U.S. infrastructure and Indian operations, and also bolster its R&D, engineering and manufacturing, marketing, and sales functions.

N-Drip was founded in 2015 by Prof. Uri Shani, former Water Authority chief, to develop a new generation of drip irrigation systems that will be significantly cheaper than the first generation developed by Netafim. The company seeks to replace the flood irrigation method used in 85% of the global irrigated lands with its system. N-Drip also developed a sensor called N-Drip Connect, which monitors the crop and soil conditions to provide growers with real-time irrigation and fertilization recommendations on their smartphones.

Eran Pollak, formerly deputy director of the budget division in the Finance Ministry, serves as the company's CEO. Tamar Shor, previously deputy director of Israel's Water Authority, is the COO, and Einav Tabac (CPA) is the CFO. The company employs 55 people.

The N-Drip system is installed in 17 countries, including the USA, Australia, Vietnam, and Nigeria. It consumes less water and has increased the yields in these locations by 30%. Upon the breakout of the Covid-19 pandemic, the company began making systems for small farms. In 2018, the company invested $1 million in a facility for industrial production and began selling it. The U.S. Department of Agriculture awarded N-Drip a $2.5-million grant to implement its systems among U.S. farmers to save over 10 million cubic meters of water every year.

Last February, the company started preparing for an IPO on TASE based on a market cap of NIS 250-300 million, in the hope of raising NIS 50-60 million. It had even named Discount Underwriting as the issuance leader, but the IPO was postponed for a host of reasons for another year or two.