UAE Embassy in Israel hosts bi-national innovation conference
The event, organized in partnership with Start-Up Nation Central and the Israeli Ministry of Economy and Industry, was initiated by UAE Ambassador to Israel H.E. Mohamed Al Khaja
The UAE Embassy in Israel, in partnership with not-for-profit organization Start-Up Nation Central, and the Israeli Ministry of Economy and Industry hosted government and business leaders in Tel Aviv on Wednesday for the first bi-national business conference held in Israel dedicated to innovation and technology.

The UAE-Israel Business Forum was initiated by UAE Ambassador to Israel H.E. Mohamed Al Khaja and constitutes the next step in his ongoing partnership with Start-Up Nation Central, led by CEO Avi Hasson.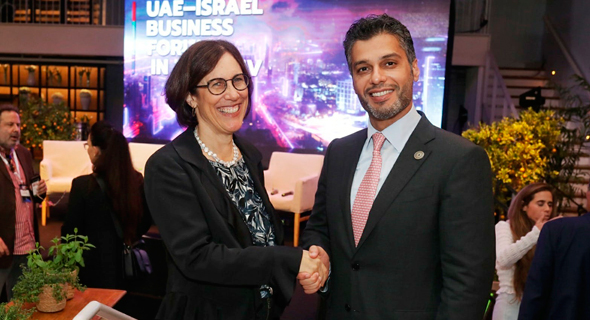 UAE Ambassador to Israel, H.E. Mohamed Al Khaja and Executive Director at Start-Up Nation Central, Wendy Singer. Photo: Eran Beeri

Among the topics discussed at the conference were: The role of multinational corporations as drivers of technological innovation and ways to create an innovative ecosystem that can benefit the region.

Wednesday's event was the first time since the signing of the Abraham Accords last year that the leaders of both countries met in Israel under one roof in a public setting organized by the two nations' governments.

Following the event, UAE Minister of State for Entrepreneurship and SMEs, H.E. Dr. Ahmed Belhoul Al Falasi and Minister of State for Foreign Trade, H.E. Dr. Thani Al Zeyoudi visited Start-Up Nation Central Headquarters for a meeting with entrepreneurs from leading Israeli tech companies and startups that are developing advanced solutions for challenges related to their portfolios.

On Thursday, the Emirati conference attendees are set to hold a series of roundtable and one-on-one meetings with their Israeli counterparts.

"As people of the region, in order to advance our own societies and our economies, it is imperative for all actors in this room, and our counterparts to find ways to "lean- in" to this relationship and work together to open doors and correctly navigate and fuse together the respective strengths of our societies and economies," said UAE Ambassador to Israel, H.E. Mohamed Al Khaja.

Start-Up Nation Central CEO Avi Hasson, added: "We are extremely delighted to partner in this event that was unparalleled both in the caliber of its participants and its potential impact on the region. As an organization that puts a great deal of emphasis on the role of innovation diplomacy, we couldn't be more pleased by the spirit of innovation and collaboration at the event."