"We can achieve gender diversity in tech without compromising on skills"
CTech caught up with Noa Zabar, CFO at Artlist; Kineret Karin, Co-Founder and COO at Rider Dome; Racheli Ganot, Founder and CEO of Rachip; and Hanna Yanovsky, GM and CRO at Caja Robotics, to hear their solutions on bringing more women into tech
Should the percentage of women employees in tech be artificially inflated, or should the hiring process only be skill-based? What are the advantages of having women in key roles and can an influx of women into tech solve the Israeli workforce shortage?

CTech presented all of these questions over recent weeks, and more, to nine women serving in senior roles in Israeli tech companies.

Featured in Part 1 of this special project are Noa Zabar, CFO at Artlist; Kineret Karin, Co-Founder and COO at Rider Dome; Racheli Ganot, Founder and CEO of Rachip; and Hanna Yanovsky, GM and CRO at Caja Robotics.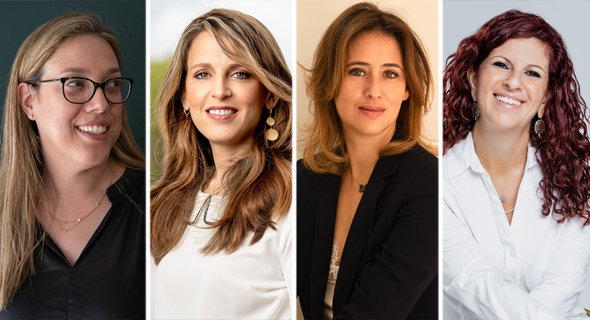 Kineret Karin (from right), Hanna Yanovsky, Racheli Ganot and Noa Zabar. Photo: Zahava Yanovsky, Micha Lobton, Artlist

"Women should be appointed to managerial roles based on their skills, not solely based on their gender," said Noa Zabar, CFO at Artlist, a creative technology company that offers content creators worldwide with nearly 900,000 digital assets and powerful video and image editing software. "However, companies should be aware of giving equal representation to women and men. For example, if there is a woman and a man with similar skills applying for the same position, and women are not fairly represented in the company, the woman's application should be treated more favorably."

"Based on my experiences with the female managers I work with and have worked with in the past, we can achieve gender diversity without compromising on skills for the sake of reverse discrimination," said Hanna Yanovsky GM and CRO (Chief Revenue Officer) at Caja Robotics, a goods-to-person (G2P) solution for unit picking. "For most positions, including serious management roles, there are plenty of female candidates with impressive skill sets that allow them to go toe-to-toe with male candidates. However, even if I were to accept the premise that achieving a gender balance required that kind of intervention, I would be in favor. Not only for reasons of social equality but also for pragmatic reasons. It's better for everyone. Gender diversity in management (not having all-male management, or all-female either) allows for diversity of thought and experience, a wider variety of dialogue between managers, different strengths, and expanding horizons. It directly benefits a company's strategy and performance. At Caja Robotics, about 50% of our senior managers are women, all extremely professional, who reached their positions based on their own merit and not based on any kind of compassionate agenda. Female leadership can be different from male leadership, and in a general sense diversity is a huge contributor to innovation, vitality, and versatility, all of which are significant growth factors for any company. Women in management contribute to the discussion, to performance, to idea generation, and even affect the way male managers behave in the workplace, and that can only be positive."
Hanna Yanovsky. Photo: Zahava Yanovsky

Kineret Karin, Co-Founder and COO of Rider Dome, a Computer Vision AI-based collision alert system for motorcycle riders, noted how having more females in leadership roles is important because female leaders change the conception about who can lead and what skill sets are required in a management role. "Having more females in management positions, although they do not always have the right qualifications, is extremely important to show other females that yes, women can lead and they should lead," explained Karin. "Skills can be acquired. We are not born with certain skills. We gain them from experience and knowledge."

Racheli Ganot, Founder and CEO of Rachip, which provides software and hardware R&D services to leading high-tech companies, spoke of how more and more studies are showing that stock performance of companies improves with gender diversity. "Therefore, as long as there is no absolute equality in key positions, companies should focus on integrating women in senior management and boards of directors," said Ganot. "There is no need to compromise on qualifications as there are quite a few worthy and skilled women available for such key positions. For example, five of six senior executives in Rachip are women. In addition to this, we should encourage qualified and skilled women to realize and acknowledge the fact that they can and should apply for key and senior positions in corporations."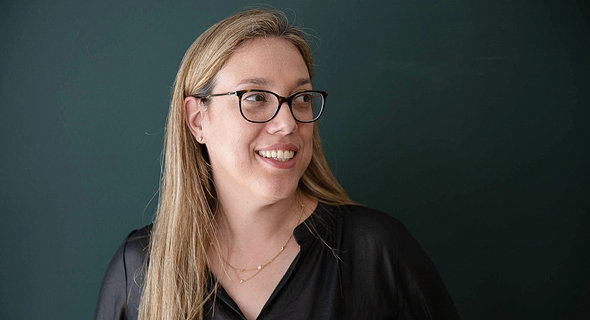 Noa Zabar. Photo: Artlist

Zabar noted a recent report from Harvard Business School on the male-dominated venture capital industry which found that "the more similar the investment partners, the lower their investments' performance." In fact, firms that increased their proportion of female partner hires by 10% saw, on average, a 1.5% spike in overall fund returns each year and had 9.7% more profitable exits. "Making gender diversity a business priority can lead to financial benefits and help a company realize its full potential, and once a company understands this - they will naturally encourage more women to become part of the company," said Zabar. "By training more women for tech jobs, the shortage of workers might definitely be reduced. Gender-diverse teams perform better than single-gender teams for several reasons: In addition to their differences in perspectives, ideas, and market insights, men and women bring to the business unit different skills for problem solving, ultimately leading to superior results. A gender-diverse workforce provides easier access to multiple sources of information and wider industry knowledge. Meaning, gender diversity helps companies attract and retain talented women, so it only makes sense that companies cannot ignore 50% of the potential workforce and expect to be competitive in the global economy."

Karin said that another change opening the tech door for more women is companies holding soft skills in a much higher regard than in the past. "Women are known for holding a key advantage in soft skills such as critical thinking, cooperation, and resilience. Women are also perceived to be more honest and ethical. When women bring these skills and qualities into their work environment, they are able to make wise decisions as leaders," explained Karin. "This helps make the team environment less authoritative and more cooperative and bring a 'family' like environment to the organization."
Kineret Karin. Photo: Courtesy

Karin insisted that having more females in hi-tech will not solve the manpower problem, although it can certainly help. "Government should invest more in the peripheral areas to stimulate females and males to study relevant courses that are needed in hi-tech companies," she said.

Ganot echoed a similar sentiment. "Gender diversity is an important part in solving the shortage of talent in high-tech. Rachip has been applying this agenda for 15 years with a focus on Haredi (Ultra-Orthodox) women in areas of software and semiconductors development. The diversity creates an advantage for the companies. The variety of points of view, opinions and approaches lead to the proven success. More women in high-tech is just one of the solutions to the shortage in technical talent. The education effort applies to all sectors and is probably the most effective investment in bridging the availability of talent gap."
Racheli Ganot. Photo: Micha Lobton

Yanovsky spoke of how it is important to recognize different, more varied capabilities that have been less valued by the industry in the past, as well as create a better balance of family responsibilities, specifically for fathers working in this industry. "When fathers can be open about their need to be active partners in raising their children and caring for homes and families throughout their working life, we will be able to do away with the misconception that women with families are somehow more absent from work and less available to their employers than their male counterparts," explained Yanovsky. "We should be evaluating productivity and the quality of work and putting less emphasis on 'face time'. Women tend to be very efficient and often can achieve greater output in less time at the office. We need to start looking at employees' contributions with that in mind.

"We need to encourage women and girls to study technological subjects both in school and in university. The stories of women who are pioneers in the field need to be publicized, making them accessible role models for female audiences. We also need to contradict the idea that a career in high-tech is incompatible with being a mother. As a society, we also need to raise the levels of self-esteem, individualism, and economic empowerment among women. Similarly, we can strengthen women's ability to market themselves. I believe that the younger generation is already well on their way with a lot of these," she concluded.