Report: Fireblocks valuation to surge to $8 billion in $400 million Series E
The Israeli digital assets security company announced a $310 million Series D at a $2 billion valuation just four months ago, but according to The Information it is now set to complete its third funding round of 2021
"Fireblocks is 'the one' of the crypto industry"

The remarkable year of funding by Israeli cryptocurrency security company Fireblocks continues, with The Information reporting that it has raised a $400 million Series E at an $8 billion valuation.

Fireblocks, which develops a secure platform for the transfer of digital assets, announced in late July that it had raised $310 million in Series D funding at a $2 billion valuation in a round co-led by Sequoia Capital, Stripes, Spark Capital, Coatue, DRW VC and SCB 10X. That came a mere four months after it raised $133 million in Series C, which itself was announced four months after a $30 million Series B.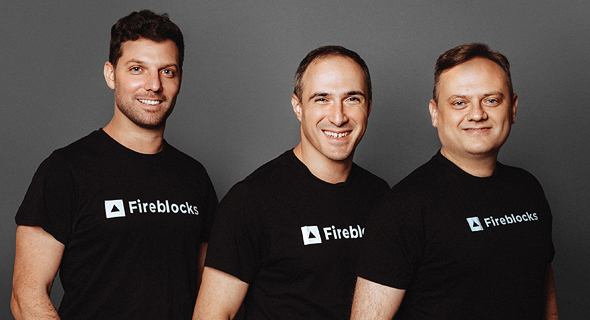 Fireblocks co-founders. Photo: Yulia Nar

The latest funding, which according to The Information is also being led by Sequoia, brings the total capital raised by Fireblocks to $889 million.

Fireblocks CEO Michael Shaulov told Calcalist in July that the Series D had one main important goal which was to send a message to the market that Fireblocks is an independent company and is here to stay. "Over the past year, there have been many mergers in our sector which added anxiety to the market. PayPal bought an Israeli company and one of our other competitors was also acquired. This funding round is a very important message for the market that we are not for sale. There aren't many players in the market that can currently acquire us. We want to show everybody that we have a lot of money. The institutions with which we work like to cooperate with organizations that have a lot of money."

Shaulov also added that "we will recruit more people to our team which helps financial institutions enter this new world. This is a new team that helps traditional players enter the crypto world. We are growing at a crazy rate. We have 500 clients today compared to 150 six months ago. We have also grown from 60 to 150 employees during this period."

Since its inception in 2018, Fireblocks has raised funds from the leading global VCs in the fintech, blockchain and cybersecurity space including Cyberstarts, Eight Roads, Tenaya Capital, Swisscom, Paradigm, Ribbit Capital, and Coatue. The company also has an illustrious list of private investors including: Shlomo Kramer, Marius Nacht, Mickey Boodaei and Nir Zuk. Other investors include Yevgeny Dibrov, co-founder and CEO at Armis Security and Nadir Izrael, co-founder and CTO at Armis.

Fireblocks was founded by three serial tech entrepreneurs, Michael Shaulov, Idan Ofrat, and Pavel Berengoltz. Shaulov and Berengoltz previously co-founded Tel Aviv-based startup Lacoon Mobile Security, which was acquired by information security company Check Point for $100 million in 2015.

The Fireblocks platform propagates the expansion of digital asset use cases beyond bitcoin into payments, gaming, NFTs, digital securities and ultimately allows any business to become a digital asset business. Fireblocks' technology can be white labeled for crypto custody solutions, allowing new and established financial institutions to implement direct custody on their own without having to rely on third parties.