Weather security platform Tomorrow.io to go public in $1.2 billion SPAC deal
The deal with special purpose acquisition company Pine Technology Acquisition Corp, which is expected to close in the first half of 2022, will fetch up to $420 million in proceeds for the Israeli-founded company
Weather and security platform Tomorrow.io will go public through a merger with a blank-check firm in a deal worth nearly $1.2 billion, the companies said on Tuesday.

The deal with special purpose acquisition company (SPAC) Pine Technology Acquisition Corp, which is expected to close in the first half of 2022, will fetch up to $420 million in proceeds for the Israeli founded company.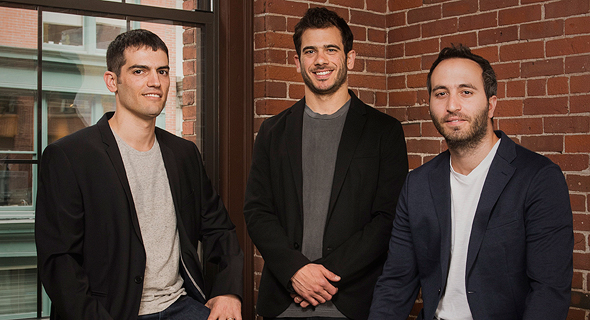 Tomorrow.io co-founders Shimon Elkabetz (from right), Rei Goffer and Itai Zlotnik. Photo: Tomorrow.io

Proceeds will be invested in Tomorrow.io's platform, used to launch radar-equipped satellites and for some "strategic M&A", said Chief Executive Shimon Elkabetz.

Tomorrow.io is used by customers including JetBlue Airways and Uber Technologies to predict the impact of weather events.

Formerly known as ClimaCell, the company was founded in 2016 by Elkabetz, Rei Goffer and Itai Zlotnik. The Boston-based company completed a $77 million funding round in March of this year led by Stonecourt Capital with the participation of Highline Capital. The company has raised $185 million to date.

In February, the company launched its ambitious Tomorrow Space project that would see it launch dozens of radar-equipped satellites over the coming years in an effort to significantly improve its weather prediction capabilities.

Funds managed by Koch Strategic Platforms, National Grid Partners, JetBlue Technology Ventures, SoftBank Group's subsidiary SB Energy Corp and others are also participating in a $75 million private investment in public equity (PIPE).

A SPAC is a listed pool of capital with no business operations except hunting for a private company to merge with, in a deal that then takes the private company public.

After a bumper 2020, the SPAC dealmaking frenzy fizzled out this year with tightening scrutiny from the U.S. Securities and Exchange Commission and saturated demand.

Tomorrow.io, which will list on Nasdaq under the symbol "TMW", provides its clients with real-time accurate weather information as well as suggestive actions to take, customized to the client's needs.

"Our software provides three levels of value for our customers. First, hyper-local, very accurate environmental information, history, real-time, and a forecast. Second, the product can configure itself to the customer's vertical and job. It might sound simple but it is not," Elkabetz told CTech in an interview earlier this year, "because unlike an IT solution or cybersecurity solution, when you sell a weather intelligence platform, selling it to the NFL, to Uber, or to Delta, all of which are our customers, we are talking about different buyers, different value propositions, different solutions.

"Third, we do not just provide raw data, like temperature will be X and wind will be Y. We actually provide business insights and action recommendations like stop the train, hold the game, call more drivers, etc. and that is important because while most businesses are impacted by weather, they do not know how to read weather data."