Claroty raises $400 million to fund Medigate acquisition
The industrial cybersecurity unicorn's Series E was led by SoftBank, with the fresh funds to go towards the purchase of its fellow Israeli company which focuses on protecting medical devices from cyber attacks
Israeli cybersecurity unicorn Claroty is raising $400 million in a Series E round led by SoftBank. The fresh funding will be used to acquire fellow Israeli company Medigate, which specializes in protecting medical infrastructure. The current round brings Claroty's total funding to $635 million. The acquisition of Medigate was first revealed by Calcalist and will include both a cash and shares element. The merged company will employ a total of 420 people.
Claroty's Series E was led by SoftBank's Vision Fund 2, with existing investors Bessemer Venture Partners and Schneider Electric also co-leading the round. SoftBank's head of investment advisors and former Mossad chief, Yossi Cohen, will join the Claroty board.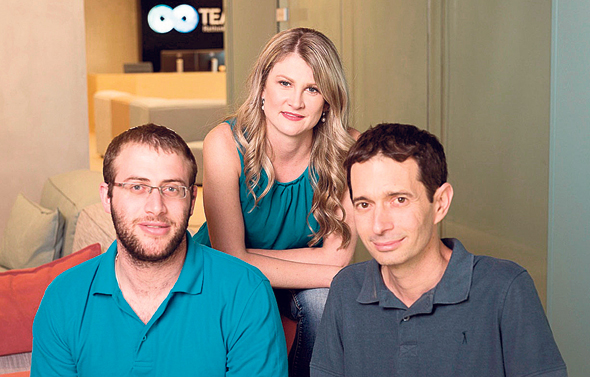 Claroty co-founders. Photo: Ayana Gisser
"As digital transformation initiatives drive the essential physical systems that we rely on for even the most basic human needs, securing these systems is ultimately about mitigating risks to human life," said Yossi Cohen of SoftBank Investment Advisers. "Claroty's technology addresses a high-stakes problem in enabling safe digital transformation, and we are eager to partner with the team in its journey to protect the critical infrastructure that is the foundation of the AI revolution."
Claroty raised a $140 million Series D in June at a company valuation of $1 billion. It was Claroty's first funding round since 2018. The round was co-led by Bessemer Venture Partners' Century II fund and 40 North, the related investment arm of privately held global industrial company Standard Industries. Additional strategic investors include LG, and I Squared Capital's ISQ Global InfraTech Fund. All previous investors, including Team8 and long-time customers and partners Rockwell Automation, Siemens, and Schneider Electric, also participated.
According to Forbes the company's valuation in the Series E was close to $2 billion. "The valuation of the company has increased by over 100% since our last round," Calroty CEO Yaniv Vardi told Calcalist without revealing the actual figure. "Our revenue has also doubled since. The company still hasn't reached annual revenue of $100 million, but we are doubling our income every year. With the addition of Medigate we will be close to that number and that also moves us closer to going public."
Claroty was founded in 2015 by Amir Zilberstein, Benny Porat, and Galina Antova. Nadav Zafrir, co-founder of Team8, is the company's president. Yaniv Vardi was named CEO in 2020.
"It is part of our vision to build leading companies," Zafrir told Calcalist. "We have built a strong technological foundation and now we are beginning to reap the rewards. This acquisition is meant to unite two strong forces. This is an important acquisition that will put us in a good position for an IPO."
Medigate last raised funds in September 2020 with a $30 million Series B. The round was led by new investor Partech Partners. Previous backers YL Ventures, U.S. Venture Partners, and Blumberg Capital, as well as first time investor Maor Investments, also participated in the round. Founded in 2017 by Jonathan Langer (CEO), Itay Kirshenbaum (VP R&D) and Pini Pinhasov (VP Product), Medigate's solution addresses patient safety and privacy by automatically locating, identifying, and managing the security posture of all devices connected to the network, in addition to powering clinical engineering with device data.
"We built the industry's first dedicated healthcare IoT security platform, which was named 2021 Best in KLAS for Healthcare IoT Security in the KLAS Software & Services Report, to empower healthcare providers to deliver secure, connected care," said Jonathan Langer, co-founder and CEO of Medigate. "Becoming a part of Claroty means our customers will not only continue to receive the best security for their healthcare IoT devices, but will also gain coverage for the wide array of industrial IoT assets in their networks, without having to stitch together disparate tools for each."