Exclusive
Claroty eyeing $300 million acquisition of Medigate
The industrial cybersecurity unicorn is aiming to add to its offering its fellow Israeli company's expertise in protecting medical devices from cyber attacks
Israeli cybersecurity unicorn Claroty is in advanced negotiations to acquire local medical cybersecurity startup Medigate, Calcalist has learned. The deal is set to be backed by a funding round of hundreds of millions of dollars, with Claroty set to pay in the region of $300 million for Medigate. Should the deal be completed, it will be one of the biggest ever by a private Israeli cybersecurity company. To date, most acquisitions of Israeli startups were made by public companies who raised funds on the public market. Claroty's expertise is in the industrial field and it is aiming to add to its offering Medigate's capabilities in protecting medical infrastructure.

Medigate said in response to the report that it will not comment on its intentions.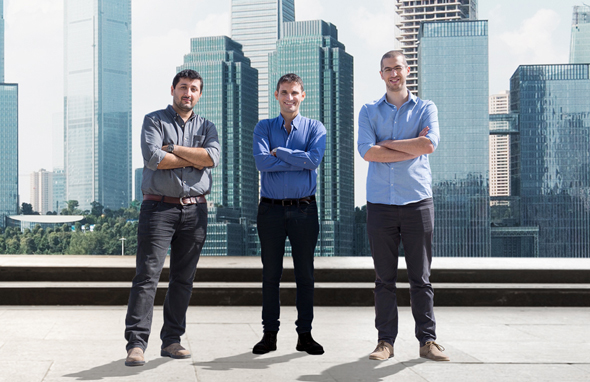 Medigate co-founders Jonathan Langer (CEO), Itay Kirshenbaum (VP R&D) and Pini Pinhasov (VP Product). Photo: Menash Cohen

Claroty raised a $140 million Series D in June at a company valuation of $1 billion. It was Claroty's first funding round since 2018. The round was co-led by Bessemer Venture Partners' Century II fund and 40 North, the related investment arm of privately held global industrial company Standard Industries. Additional strategic investors include LG, and I Squared Capital's ISQ Global InfraTech Fund. All previous investors, including Team8 and long-time customers and partners Rockwell Automation, Siemens, and Schneider Electric, also participated. The round brought the company's total funding to $235 million.

Claroty was founded in 2015 by Amir Zilberstein, Benny Porat, and Galina Antova. Nadav Zafrir, co-founder of Team8, is the company's president. Yaniv Vardi was named CEO in 2020. Claroty currently employs 280 people in total, 150 of them in Israel.

Medigate last raised funds in September 2020 with a $30 million Series B. The round was led by new investor Partech Partners. Previous backers YL Ventures, U.S. Venture Partners, and Blumberg Capital, as well as first time investor Maor Investments, also participated in the round. Founded in 2017 by Jonathan Langer (CEO), Itay Kirshenbaum (VP R&D) and Pini Pinhasov (VP Product), Medigate's solution addresses patient safety and privacy by automatically locating, identifying, and managing the security posture of all devices connected to the network, in addition to powering clinical engineering with device data.

According to data collected by accounting firm PwC Israel, since the beginning of the year some 86 Israeli companies have been sold for a total sum of $9.5 billion, compared to 67 for $7.7 billion in 2019 and 52 for $4 billion in 2018. In 2020, there were only 41 such deals completed for a total sum of $6.1 billion.