Vault AI announces $8 million in Series A led by Hearst Ventures and PICO Venture Partners
The startup's AI platform bridges the gap between creative content and audience insights, helping quickly test what will resonate with audiences
Vault AI, an Israeli company that uses artificial intelligence to provide predictive insights for the media industry, has today announced that it has secured a $8 million Series A round co-led by Hearst Ventures and PICO Venture Partners. The funding included participation from existing investors TV Azteca and Sky/ProSieben backed Remagine Ventures. Former Vice-Chairman of Sony Pictures Entertainment, Yair Landau, also participated in the round.

"Hearst Ventures and PICO Venture Partners bring incredible strategic value to the company and we're delighted they co-led our round," says David Stiff, CEO and Co-Founder of Vault AI. "The media landscape is in total flux right now and this funding is a vote of confidence in Vault AI's ability to deliver a new wave of predictive consumer insights tools purpose-built to deal with this shifting landscape. With this funding, we've set aggressive growth targets and expanded our product development roadmap to solidify our unique position in the transforming consumer insights market."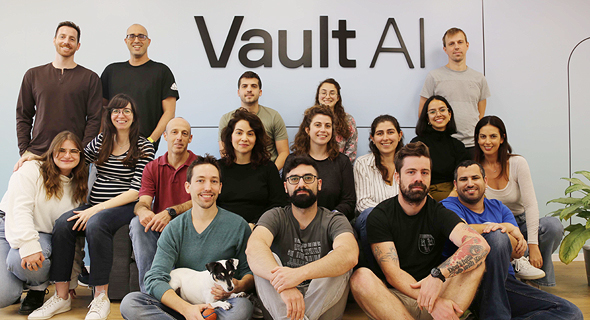 The Vault AI team. Photo: Vault AI

Vault AI's platform helps bridge the gap between creative content and audience insights, helping quickly test what will resonate with audiences. Users can upload content at any stage in production and its platform can analyze 150,000 data points associated with story, talent, and production which can then be compared with 50,000 titles over 60 countries. Clients have used Vault AI to test thousands of pieces of content to help their pilot testing, concept training, trailer editing, and green light projects.

"Consumer habits formed during the Covid-19 pandemic are supercharging shifts in the media market on multiple fronts," said Gil Canaani, Managing Director of Hearst Ventures and the newest member of Vault AI's Board of Directors. "Competition for subscribers and viewers is fiercer than ever and as a result, the need for AI-powered, real-time and accurate consumer insights data has soared. Vault AI's team combines the best minds in AI from Israel with world-class consumer insights talent, uniquely positioning them to fill this need and empower media firms to make smarter content decisions faster."

CTech spoke with Stiff who confirmed that the company has 10-15 clients globally who are streamers, networks, and studios. "If you saw a movie or TV series over the last few years, you've seen our work and haven't even realized it," he said at the time.

Vault AI will use the investment to support its global growth initiatives, such as growing the sales and product teams, enhancing its consumer insights technology, and serving new verticals beyond entertainment. In May, Stiff had hinted that the company had plans to expand to analyzing commercials and CPG products for advertising purposes, as well as analyzing podcasts and predicting their success were they to be adapted into a movie or television series.

"The AI revolution is in full swing in many verticals and industries, but it's only just starting to heat up in the $80 billion consumer insights market," added Claudia De Antoni, Operating Partner at PICO Venture Partners, who co-led the round and will join Vault AI's Board of Directors. "As the market leader in its space, we believe Vault AI's business model is well poised to transform and capture the market."

Vault AI was founded by Stiff, Ziv Ayalon, and Nir Tzachar. Hearst Ventures was founded in 1995 and has invested more than $1 billion in ventures such as Buzzfeed, HootSuite, Otonomo, and Pandora. PICO Venture Partners was established in 2015 and has to date invested in enterprise software, automotive retail, e-commerce, cybersecurity, and IT-enabled healthcare.