Super-Wolt: Delivery platform launching grocery service in Tel Aviv
The Finnish company will set up dark stores from which grocery deliveries will be sent to customers' homes
Delivery platform Wolt is setting up a separate venture to deliver grocery products from stores it will operate, working directly with suppliers, Calcalist has learned. The service will operate under the name Wolt Market and will compete against Yango's Deli service. Wolt submitted a request with the Israeli Competition Authority to receive approval to enter the new activity. The company confirmed the information.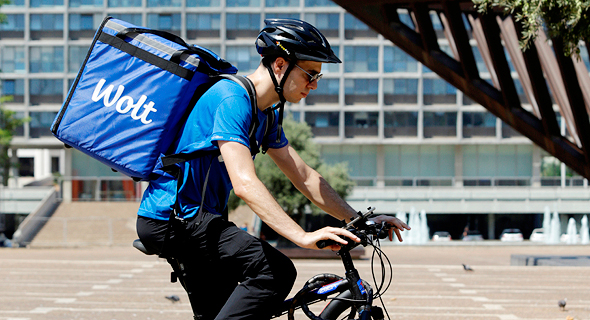 Wolt delivery in Tel Aviv. Photo: Amit Shaal

As part of the new activity, the Finnish company plans to open dark stores, which will be used as logistics warehouses, from which food products, beverages, toiletries, pastries and other grocery products will be collected and sent directly to customers' homes in a short time frame. Unlike Yango Deli, Wolt does not plan to commit to meeting short, 15-minute deadlines. However, with its new operation to not only compete with Yango Deli, but also with other online retail platforms such as Shufersal Online, Quick, and others, it is likely that Wolt will strive to reach the consumer relatively quickly.

In the first phase, Wolt will pilot the service by running a number of dark stores in the center of Tel Aviv, and then the activity will be expanded to other cities throughout the country. In more advanced stages the service is expected to include dozens of stores. The Market activity will be integrated with Wolt's existing technology developed in Finland. The shipping company will recruit employees to collect and package grocery shipments, and the shipments are expected to be made by Wolt couriers.

The new operation will be added to the collaborations that Wolt already has today with grocery stores, bakeries, and pharma shops. Wolt currently supplies shipments of grocery items collected from stores it does not own.

Until last year, Wolt was mostly known for its restaurants and food delivery platform, however, in the past year, Wolt has found an important growth engine in the retail sector, and it intends to expand its retail business in the coming years as well. Retail sales grew within the company and began to account for a significant share of its total operations, alongside its main service, food deliveries from restaurants.

Among its new services and cooperations from the past year are delivering groceries and toiletries, delivering Roldin pastries, delivering from gas stations store chain Yellow, and delivering fruits and vegetables. Wolt also partnered with several companies from the Fox Group, most recently expanding to Laline. Wolt is expected to expand its activities to the field of toys and flowers as well.

Wolt Market is a relatively new activity for the company, beginning to operate in the past year only in Helsinki. In Helsinki, the service is open from 8:30 to 22:30 and the delivery time ranges from 40 to 70 minutes.