BiblioTech
CTech's Book Review: Ahoy! What organizations can learn from a ship's captain
Gal Oron, CEO at Zoomin, shares insights after reading "Turn The Ship Around!" by L. David Marquet
Gal Oron is the CEO at Zoomin. He has joined CTech to share a review of "Turn The Ship Around!" by David Marquet. Here, he shares his experience of reading about turning the worst of something into the best of it.

Title: Turn The Ship Around!

Author: L. David Marquet

Format: Book, Tablet, Audiobook

Where: Home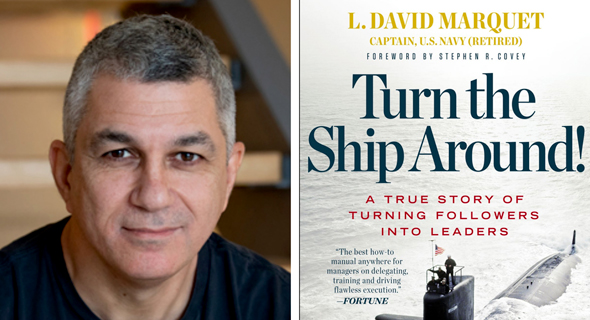 Gal Oron is the CEO of Zoomin. Photo: Zoomin

Summary:

Turn the Ship Around! tells the story of how Captain David Marquet successfully transformed the USS Santa Fe submarine in less than a year, from the worst-performing submarine in its fleet to the best. It presents a different approach to leadership, using a "leader-leader" model instead of a "leader-follower" model. This approach can be applied to any organization to unlock the energy and potential of people at all levels.

Important Themes:

Don't focus on avoiding errors: poor practices result in mistakes, mistakes result in poor morale, which results in avoiding initiatives and doing only what was absolutely necessary. A radical change is needed from focusing on avoiding errors to achieving excellence.

From disempowered to empowered phrases: avoid using phrases like "Request permission to…?", "What should we do about…?", "Do you think we should…?", "Could we…", etc. Instead, use empowering phrases that communicate taking control: "I intend to…", "I plan to…", "I will…", "We will…".

Don't 'Brief', 'Certify'. A briefing is a passive activity. You just listen. Certification differs from a brief in that the person in charge asks questions. At the end of the certification, a decision is made whether the team is ready to perform.

What I've Learned:

While it's a true Navy story, the analogy to the culture of any organization (in my case a tech company) makes this book so relevant and actionable. As a leader, you'll learn how to release the passion, intellect, and energy of your people. "Front lines" will find ways to embrace decision-making, making it easier for bosses to let go of control.

We're in a profound shift from the Industrial Age of "control" to the Knowledge Worker Age of "release".

Leadership is about communicating to people their worth and potential so clearly that they are inspired to see it themselves.

Who Should Read This Book:

Any person. Especially those who aspire to live their lives like leaders and not followers.