BiblioTech
CTech's Book Review: Being brave enough to embrace leadership that exposes fear and uncertainty
Finastra's SVP & General Manager of Payments, Oren Marmur, shares his insights after reading "Dare to Lead" by Brené Brown
Oren Marmur is the SVP & General Manager, Payments at Finastra. He has joined CTech to share a review of "Dare to Lead" by Brené Brown. Here, he shares some of the lessons learned from a title that explores brave leaders who allow themselves to show vulnerability.

Title: Dare to Lead

Author: Brené Brown

Format: Book

Where: Home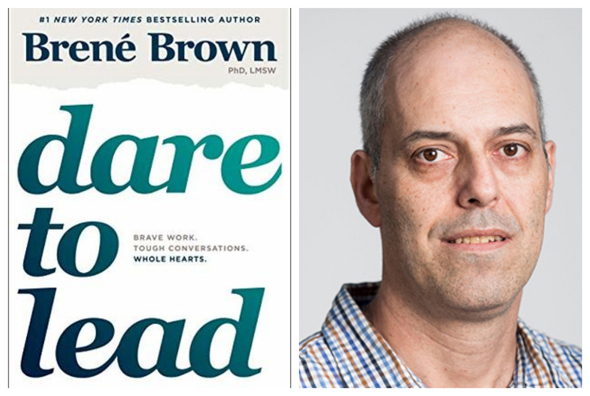 Oren Marmur, SVP & General Manager, Payments at Finastra. Photo: Ron Burkin/GoodReads

Summary:

"Dare to Lead", as the title implies, is a Management & Leadership book that challenges the traditional workspace leadership concepts and brings forward a new model that is based on brave leadership. Brave leaders approach fear and uncertainty head-on, and they teach their teams how to do the same. Daring to lead is about being brave enough to embrace leadership that exposes fear and uncertainty.

Brené Brown herself summarizes the key essence of the book probably best: "One of the most important findings of my career is that daring leadership is a collection of four skill sets that are 100% teachable, observable, and measurable. It's learning and unlearning that requires brave work, tough conversations, and showing up with your whole heart. Easy? No. Because choosing courage over comfort is not always our default. Worth it? Always. We want to be brave with our lives and our work. It's why we're here."

Important Themes:

One of the key themes of the book is that leadership is not about titles, status, or power. A leader is anyone who takes responsibility for recognizing the potential in people and ideas and has the courage to develop that potential. The main idea and belief is that today's workplace is in desperate need of more leaders who are committed to courageous, wholehearted leadership and who are self-aware enough to lead from their hearts, rather than leaders who lead from hurt, fear, or the need for control.

The book is based on research Brené Brown has conducted over the past 20 years, over 400,000 pieces of data, and new research based on 150 global C-Level leaders on the future of leadership. In order to properly set the stage for how brave leadership should look like, the book starts by pointing to the 10 behaviors and cultural issues that leaders identified as getting in our way in different organizations:
We avoid tough conversations, including giving honest, productive feedback.
Rather than spending a reasonable amount of time proactively acknowledging and addressing the fears and feelings that show up during change and upheaval, we spend an unreasonable amount of time managing problematic behaviors.
Diminishing trust caused by a lack of connection and empathy.
Not enough people are taking smart risks or creating and sharing bold ideas to meet changing demands and the insatiable need for innovation.
We get stuck and defined by setbacks, disappointments, and failures - instead of spending resources on clean-up to ensure that consumers, stakeholders, or internal processes are made whole.
Too much shame and blame, not enough accountability and learning.
People are opting out of vital conversations about diversity and inclusivity because they fear looking wrong, saying something wrong, or being wrong. We choose our own comfort over hard conversations and this moves us away from meaningful and lasting change.
When something goes wrong, individuals and teams are rushing into ineffective or unsustainable solutions rather than staying with problem identification and solving.
Organizational values are assessed in terms of aspirations rather than actual behaviors that can be taught, measured, and evaluated.
Perfectionism and fear are keeping people from learning and growing.

In order to best address these issues and apply effective and brave leadership, the book shows how four courage-building skills need to be applied: facing vulnerability, choosing and practicing values, building trust, and developing failure resilience.

While the book walks through each one of these four skills in great detail, the main theme is about showing us that being vulnerable is the bravest thing we can do. We all need to strive to expose our weaknesses and genuinely self-evaluate ourselves. It's about acknowledging our actual faults and leading by example. The new definition of a great leader is one who dares greatly and leads gently.

What I've Learned:

There are quite a few things I have learned from this book, which make it quite challenging to summarize concisely. I would say that the main takeaways for me are related to how the concept of leadership has evolved over the past few years and how the modern workplace, especially in these days of accelerated innovation and rapid growth, requires a different, more compassionate leadership style, as well as the fact that leadership is directly related to specific skills that are truly teachable and measurable.

Who Should Read This Book:

The book is definitely a highly recommended read for any leader at any level, and especially for those who are eager to continue to develop, to take their leadership skills to the next level, to learn how to lead in a more effective and brave manner, and to embark on a continuous development and evolution path.