The Israeli startup bringing the live broadcast revolution to every smartphone
Omnistream wants to provide every smartphone owner with what LiveU has been selling for decades to broadcast stations worldwide - a stable and high-quality video stream
Have you ever considered the fact that the smartphone in your hand is actually a broadcasting station? Uploading videos to social networks - to Instagram, TikTok, YouTube, Facebook - is a daily, trivial task. Even basic editing, which once required special skill and expensive studios, can now be performed in minutes by any child, on the smartphone itself.

But when it comes to live broadcasts - such as broadcasting a granddaughter's wedding to her bedridden grandmother, sharing a funeral with a relative overseas, screening a company event live for employees around the world, or airing a college league game to fans at home - the issues become more complex. When such broadcasts are screened over Zoom, they are far from high quality. This is not because of the quality of the photography - many cellphones today film in excellent video quality of 4K, and even 8K. The problem is in the broadcasting: cellular networks cannot supply high-quality video broadcasts directly from a cellular phone without interruptions, pauses, breaks, glitches and "smearing" of the image, even when they are 5th generation cellular networks, and even when they have optimal reception. The same is true of apps designed for this purpose, like Facebook Live and YouTube Live.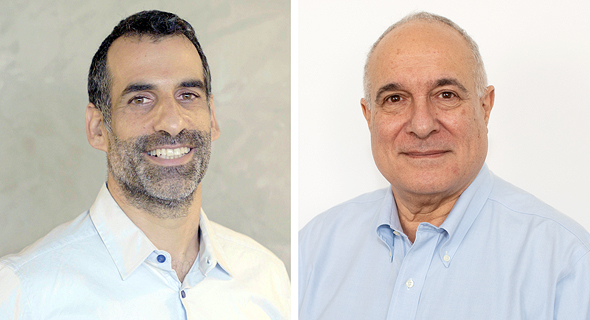 Omnistream co-founders Avi Shrir (right) and Hagay Avraham. Photo: Omnistream

The difficulty increases when it comes to field broadcasts from sites where cellular reception is almost non-existent, such as a stadium crowded with people or a remote location. Furthermore, the live apps do not permit direct transmission to competing networks or private sites and delay it by at least 20 seconds. They also set minimum threshold requirements for video quality, making such broadcasts an almost impossible task.

Professional TV channels actually have a solution. Fifteen years ago, Kfar Saba-based LiveU developed a technology for live field broadcasting via cellular networks, which does not require a mobile satellite broadcast. LiveU, which was recently sold to the American Carlyle Foundation for half a billion dollars, developed a portable transmitter integrated in a compact backpack for international news channels who previously used to move cumbersome production trucks to any point from which a live broadcast was to take place. This small box, which includes a number of mobile SIM cards, is connected to a professional video camera, and enables the transmission of high-quality live broadcasts over cellular networks. The filmed content undergoes a process of encoding, compression and splitting - division into small "packets", each of which is transmitted separately from a different cellular channel. They are then reconnected in a server located at the channel headquarters, enabling a stable and high-quality television broadcast.

LiveU became popular amongst broadcasters, especially those specializing in field broadcasts, and its customers include the BBC, CNN, Fox News, the NBA and NFL sports leagues, Israeli news channels, and more. The price that the company charges each customer is according to the volume of broadcasts, and ranges between hundreds to thousands of dollars a month. It has also been copied - there are at least nine other competing companies today, most of which are clearly infringing on its patent - but LiveU still manages to maintain leadership of the market. Its new units already allow connection to four cameras simultaneously. Additionally, it is suitable for fifth generation infrastructures being deployed around the world. According to Ronen Artman, LiveU's VP of Marketing, fifth generation broadband is expected to completely replace satellite broadcasting of sports, and will completely change the world of broadcasting.

LiveU is an international success, which may have been a breakthrough for the major broadcasters, but is of course unsuitable for a 12-year-old girl running an Instagram channel: it is dedicated and expensive equipment, rich in options and menus that require operating skills and the deployment of a unique server. An Israeli start-up company, Omnistream, is now trying to take the technology one step further and make it accessible not only to affluent TV channels but to any smartphone owner, and at an inexpensive price. In an age where anyone can be a "content creator" and share experiences with half the world - the next step is to do so live, in a direct broadcast, and without sacrificing broadcast stability and image quality.

Omnistream was co-founded by an unusual pairing for Israeli tech. Hagay Avraham, 43, is a video and communications engineer, a graduate of Computer Science and Mathematics from Bar Ilan University, and served as VP of Sales at dvtel when it was acquired by an American company. In his search for his next challenge, he met up with Avi Sharir, 75, a veteran of the communications market in Israel who previously served as CEO of Orad and Oprotech, and VP of Tadiran Communications.

"We understood that institutional broadcasting bodies - the old television – is a disappearing world. In contrast, the cloud revolution, which has given everyone access to an ocean of information and resources, is merging with the smartphone revolution, which today offers unprecedented computing power," said Avraham, CEO of Omnistream. "At first people were enthusiastic about SMS, then came photos on Facebook, followed by birthday videos. It is clear to us that the next step in evolution is live broadcasts. "

In 2017, the two established Omnistream, which currently has eight employees and is located in Ramat Hasharon. Sharir serves as Chairman. Together with Avraham, who previously also served as VP of Business Development at LiveU, they decided to focus on software-only technology that would really allow anyone to turn their inexpensive smartphone into a high-quality broadcasting station.

The service developed by Omnistream can be operated by any child, without prior knowledge. For the live broadcasting of an event, at least three adjacent smartphones are required (currently only Android-based, but an iPhone version is on the way), installed with the company's app. One serves as the primary smartphone, from which the video is filmed, while the others are secondary and can be connected to different cellular operators. A "hot spot" (hot spot, internal WiFi network) is opened in the primary smartphone and is connected to the others. The video is taken on the primary cellphone, at the predefined image quality. A unique algorithm compresses the video and breaks it down into small "packets", which are instantly transmitted to the secondary smartphones.

At this point, all the devices transmit the split video clips over the cellular networks directly to the cloud, to one of the hundreds of servers that Omnistream rents around the world. There, on the server, they are reassembled, converted to all the video formats required today and distributed simultaneously, in excellent quality, to all the "addresses" predefined in the app - YouTube, Instagram, Twitter, Facebook, or the integrated player on a website. This whole complex process is performed in milliseconds and with the help of a complex algorithm.

How many smartphones are required for a successful broadcast?

Avraham: "It depends. If you are in a relatively developed country like Israel, then two is good, three is excellent, and you do not need more than four. But if you are in Africa, where the cellular networks can be weak, you should even have eight smartphones for the event."

Do they need to be particularly strong?

"Absolutely not. Any Android of any type, made in any country in the last eight years, is suitable. Even scratched, or with a broken screen. In order to check that it works properly, we sent workers to India, Russia and Africa. I personally tested the service in Nigeria. It works amazingly everywhere".

And how do you overcome the lack of reception in some places, such as full stadiums?

"With the help of our additional patent, which takes into account the method by which the cellular antennas operate. The algorithm also knows how to make good use of reception remnants from any network, and especially 'jump' the reception to another antenna a little further away, even two blocks away, that is unaffected by stadium congestion."

For those interested in more professional photography - such as event photographers - Omnistream also enables connection to a video camera. The company provides a small box that includes a standard video encoder to which both the primary smartphone and the camera are connected, and even a suitable tripod. The encoder includes several integrated SIM cards, thereby eliminating the need for secondary smartphones.

Avraham is enthusiastic: "The algorithm is 'thin' and insanely efficient. With us, every line of code is tested, every bit counts. We take into account every mobile model on the market, every country, every battery. By the way, users can purchase a dedicated video player and embed it on their website or personal blog, or integrate it in our website, where their channel will be located alongside many others."

The service provided by Omnistream is based on a monthly subscription (after a one-month free trial), at prices ranging from $20-100 per month, depending on the features requested. In this way, for example, a basic Internet broadcast via a smartphone will cost $10 per month; broadcasting with an external camera will cost $20 per month; a more professional management system will cost $40 per month; and a professional analog format will cost $100 per month. The app, both for the primary device and for the secondary devices, can already be downloaded for free from Google Play. The Hebrew version will be ready in January.

Who do you address - who is your target audience?

"Creators of 50 million YouTube channels, bloggers, content creators, wedding and event photographers, universities and high schools, and sports events that interest the masses but do not reach regular TV. The app is intuitive and requires no prior technical expertise, or even knowledge of English. The interface can be easily translated into any language. In India, for example, professional television stations broadcast cricket games filmed on smartphones."

That means you will also be competing with LiveU.

"Yes, but it's happening on its own, and not at our initiative. We have no intention of actively focusing on broadcasting; it's not a big market and it's not growing, either. Before that, we want to reach the tens of thousands of colleges in the U.S., the universities, the football, baseball and hockey clubs – it's an enormous market. Think about it: we in Israel have cellular networks which sometimes meet the minimum threshold requirements for live broadcasts on Facebook and YouTube. But if you're an Italian who wants to broadcast on YouTube Live from your church on Sunday, you simply cannot do it today. YouTube requires that the broadcast quality be at least 4 megabit/second, and you just don't have it."

Omnistream enables its subscribers to incorporate numerous options in live videos – like graphic elements such as logos, the names of the teams competing on the field, the name and location of the reporter, and more - without the need for special graphic software. The simple execution is reminiscent of TikTok, but the result is much more impressive. Advertisements can be run around the video window on the site, or incorporated in the live image. For example, when a basketball player prepares for free throws, the small circle below the basket can be replaced with the logo of a commercial company, which will disappear immediately after the throws. The company even offers personalized advertisements, which utilize data extracted from the browser of each viewer. In this way, a father and his small son watching the same game will see animated transitions or completely different banners: one will be offered work tools and the other will be offered pizza.

I suspect that Facebook and Google are coming after you. It's only matter of time that what you are offering will become a basic feature of one of the software giants.

Avraham: "They are many years behind us. Even if their engineers are better than ours, it will take them time. It is obvious that if you give Facebook enough time, they will make 'Omnistream 2', but we do not see them going there."

How long do they need for that, half a year?

"Forget it. It is impossible to develop such a product in half a year, even if dozens of engineers are working on it. In any case, this concern not only exists for us, but for every software company in the world."

What do you want to be when you grow up?

"We want to be a social platform for live video broadcasts. As people currently scroll their feed on Instagram, they will be updated on live feeds on subjects that they love, and will be able to skip between a live basketball game in Minnesota and a jazz course taking place at the same time in New York."