What does it take to be a tech CEO?
Senior executives in Israeli tech shared their secrets to success and what led them to their current positions
As the year comes to its end, many are reflecting on some of the experiences that have helped shape their year and, indeed, their careers. CTech spoke with a collection of CEOs from startups and VCs who expressed their feelings towards their industries and work habits.

This is a two-part series. Part one, below, features Mor Assia and Shelly Hod Moyal, Founding Partners and Co-CEOs at iAngels; Tami Mazel Shachar, CEO at Incredibuild; Noa Asher, CEO at NTT Innovation Laboratory Israel; Gal Helemski, CTO and Co-founder at PlainID; and Itai Margalit, AVP, Head of Israel Distribution at Salesforce.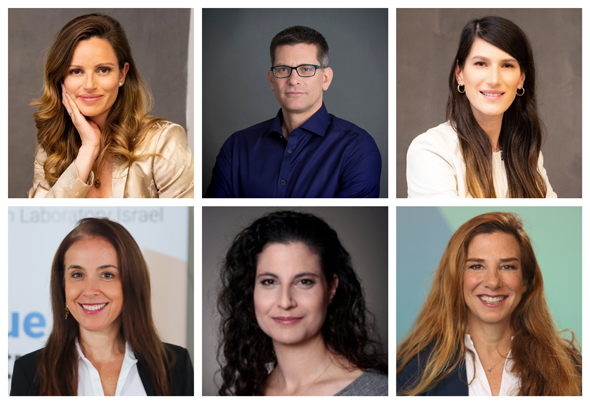 Clockwise from top left: Shelly Hod Moyal, Itai Margalit, Mor Assia, Tami Mazel Shachar, Gal Helemski, and Noa Asher. Photo: Salesforce/N/A/Michal Levi/Efi Sameach/Haim Bargig

How do you balance work and life?

"We run a high-pace, demanding company, and we find our balance through our partnership, and working together," explained Assia and Hod Moyal from iAngels. Together, they have been co-CEOs for 8 years and manage a team of 20. "We share nine children between the two of us, and while we work hundred-hour weeks, our husbands also juggle parenting and responsibilities with their own intense jobs. Our partnership is one of synergy - we share the same values for business, professionalism, and family. No one can work in a vacuum. We lean on each other and in doing so, push each other forward."

Mazel Shahar has been the CEO of Incredibuild since November 2019. According to her, there are three aspects that help balance these important areas. "First, time is the key for this," she said. "Make every moment impactful. Pin private activities in the planning of the week and on the calendar such as sports classes, family time, or friends time and make sure they are respected. Second, when at home be at home. This means putting phones and laptops aside and giving 100% of me to family and to myself to recharge. Finally, make sure to schedule vacations on a regular basis."

"Working in a global company and partnering with NTT's business units around the world makes our hours very long," explained Asher, who has been its CEO since 2016. "We usually start the morning with Japan or Australia and finish late evenings with U.S or Brazil. The good thing is that our time is pretty flexible and as I have three young kids I feel that I can be attentive to their needs. I was also blessed with a great partner for this journey."

Gal Helemski is the CTO and Co-founder at PlainID and manages 40 people, clocking up 10 hours a day of work. "I make the effort to avoid work during weekends, they are for family and for myself," she says, which she admits is challenging. "Additionally, I start each day with a book (non-work-related) and coffee. I love reading, even if it's just 20 minutes, it clears the mind and helps focus."

"I have certain elements in my life that are essential to me in order to have a good work-life balance," added Salesforce's Margalit. "Things like sports, spending time with my family, and volunteering. These are things that if I don't do, I feel like my work is not as efficient and actually my productivity declines." He added that one of the values and concepts that Salesforce stands for since it was founded in 1999 is the '1-1-1 program'. "It means that 1% of the time, 1% of the product, and 1% of our time will be contributed to giving back and volunteer work," he explained.

What was your strongest feeling when becoming CEO? Anxiety? Excitement?

"A combination of embarking on a journey full of excitement, pride, anxiety, and a strong feeling of taking a huge responsibility," said Mazel Shachar, who manages 160 people across Israel, the U.S, China, Japan, and Ukraine.

Asher admits that she felt both anxiety and excitement. "Although we are still a small team our mission is very wide and abstract as we are building something from scratch. This is both exciting and challenging as there are so many potential collaboration opportunities for NTT with the Israeli ecosystem and we have to carefully prioritize and focus."

Margalit: "When you become CEO, you understand that other than the power and freedom you have, you also have a lot of duties and responsibilities to fulfill. A lot of people are depending on you which sometimes makes you second guess yourself in the decision-making process because every decision has a lot of impact - not only on the employees but also on the entire eco-system and the entire organization. This makes you realize that as a CEO you have to take time and think about what you are doing. Together with that, it is very exciting as well, because when a true leader gets to that point where he can really lead and really achieve his goals and vision it's amazing. And it was really important for me when I did."

Left to right: Shelly Hod Moyal, Itai Margalit, and Mor Assia. Photo: Salesforce/Efi Sameach

Do you think there is a difference between being a CEO in tech vs. other sectors?

Mazel Shachar: "In general and in all sectors, being a CEO requires leadership skills competitiveness, agility, ability to take tough decisions, and constantly prioritize. Ultimately for tech, I think the major difference is the fast pace of the market as technology evolves every minute as well as the growing competition for talent. There's no time to blink. Expectations from the investors in tech are a magnitude higher than other sectors."

"Previously I had a long career in the public sector working mainly as a diplomat for the Israeli Ministry of Economy in the U.S and Japan," explained Asher. "The transition from the 'diplomatic life' to what I call a regular/routine life is enormous. Although Israel is my home, I feel as if I actually made a relocation here which is not in any way easier than making a real relocation. The big benefit as I see it today is the flexibility and independence I have compared to my previous positions within the public sector."

What advice did you receive before you started your career? Was it helpful?

"When we started iAngels, many individuals told us that our ideas were too big and the Israeli market was too small," said Assia and Hod Moyal. "We trusted ourselves, our gut, intuition, and experience, and didn't let naysayers get in our way."

"To do ruthless prioritization every day is the most helpful advice I got," added Mazel Shachar. "Especially in difficult and challenging situations, it's important to be able to prioritize and make decisions. The last year and a half with Covid-19 has proven this point strongly and that especially in uncertain times, being able to take hard decisions while prioritizing is the key to survival. We may not be able to predict what is around the corner, but we need to gamble the best we can."

Asher: "Always do things that you are interested in – having a passion for what I do and a real interest in fulfilling my goals gives me a real drive to succeed. I feel that you can achieve anything if you do it with real passion and interest."

Before PlainID was founded, Helemski remembers sitting down with her co-founder, Oren Harel, who is the company CEO. "Oren said it's going to be a challenging but exciting journey. He was right about both. He later gave me the book, 'Oh, the places you'll go!', by Dr. Seuss. Even if designed for children, it speaks one important truth: you need to dare to travel to achieve great things."

"There are two I remember very well," said Margalit. "The first one is that as a CEO you ought to work quickly and make decisions fast. Don't leave things for tomorrow, if you can do them today. Sometimes I wish that at the beginning I would have taken my decisions quicker, moved faster. This helped me become the leader that I am today. The second good piece of advice I received was to surround yourself with good people. Having strong leaders supporting you makes your job so much more powerful, effective, rewarding, and enjoyable."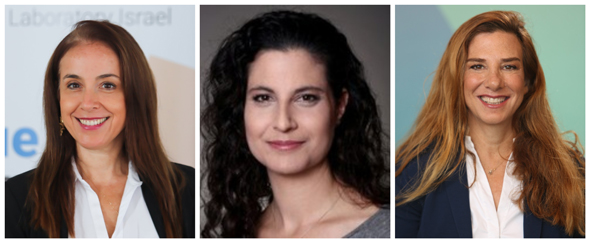 Left to right: Noa Asher, Gal Helemski, and Tami Mazel Shachar. Photo: Michal Levi/Haim Bargig

If you could tell yourself one thing before your first day as CEO, what would it be?

Assia and Hod Moyal: "Stay clear and committed, and have a healthy ability to take calculated risks."

"I would have told myself that it's a roller coaster and therefore, it is important to maintain stable emotions when going up and when going down," said Mazel Shachar.

"Make sure to choose your team carefully," added Asher. "Working in a small team and building something from scratch requires a certain type of people that are not afraid of the uncertainties, that are creative visionaries and are very dedicated to the success of our initiative."

Margalit: "Surround yourself with positive people and get away from negative ones. Things do not always go as we want to, and if you don't have positive people around you and surround yourself with professionals who are excited about what you are doing it will make it more challenging to succeed."

What two qualities have you realized are important for a CEO?

For Incredibuild's Mazel Shachar, "I've realized it's important to make tough and clear decisions and prioritize effectively; and to always keep stable emotions."

NTT's Asher added that the two qualities for her are good listening and passion. "Always listen and learn from others' experiences, don't think that you know everything- other people, your team members might have brilliant insights for you. Passion, as I said before, always drives the whole team to achieve the impossible."

Salesforce's Margalit believes in "quick learning and the ability to never lose sight of the big picture" as being important for a CEO.

Are you born to be a CEO or is it something you learn over time?

"Learned," said Assia and Hod Moyal from iAngels. "We need to encourage and train the younger generation to dare and bridge the CEO gaps by arming them with core skills to become leaders. Schools should focus on developing leadership skills that foster real-world competence–the kind that teaches you, when faced with a door that won't unlock, to figure out how to go in through the window. We need to build our children's confidence, oratory, and improvisation skills and train them to be entrepreneurial with an understanding of management principles."

"It's something you definitely learn over time," concluded both Asher and Margalit. Asher added that "experience is priceless."

"It is definitely an acquired skill," agreed Mazel Shachar. "If I were trying to spot a pattern in management and leadership, I would say that ambition, willpower, curiosity, hard work, and perseverance are the necessary ingredients. At the same time, I cannot overlook other variables that have been beyond my control, including luck, timing, and personal chemistry. In the near future, women will no longer be such a rarity within the top echelons of tech companies. It's important that we promote women in tech as much as possible, which will make the biggest difference to their advancement. We have put women in senior roles at Incredibuild, and I am proud to say that more than half of our board is made up of women."

Part two of this series can be found here.