VC theDOCK raises initial $10 million of targeted $30 million for maritime-tech fund
The fund will focus on early-stage startups developing technologies to help revolutionize ports, shipping, supply chain, and offshore sectors and will target both Israeli and international companies
theDOCK, a maritime-tech venture capital fund based in Israel, has announced the initial closing of its second fund, raising about $10 million from a targeted $30 million. The fund will focus on early-stage startups developing technologies to help revolutionize ports, shipping, supply chain, and offshore sectors and targeting both Israeli and international companies. According to the firm, it hopes to hold a final closing of up to $30 million by the end of the year.

"The global transportation domain which includes sectors such as maritime, ports, terminal operators and the whole supply chain is high on the agenda of corporates and government decision-makers alike," said Hannan Carmeli, theDOCK's Co-Founder and Managing Partner. "The importance of maintaining a smooth and nimble, yet resilient, supply chain is clear today more than ever. This makes the fund attractive to strategic investors who are determined to up their game by introducing digital innovation to their business, as well as to financial investors who seek returns in an emerging sector."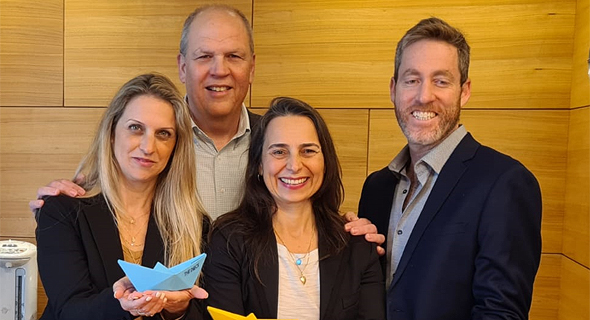 The theDOCK team. Photo: N/A

The fund already has shortlisted a few investment opportunities and announced its investment in ASIO, an early-stage startup that develops smart visual data analysis solutions based on AI. The company graduated from an accelerator program jointly operated by TAU Ventures and the Israeli Security Agency, and already runs pilots with two major terminal operators.

"A vertical (thematic) fund has the advantage of attracting leading global corporates to support its activity," added Nir Gartzman, theDOCK's Co-Founder and Managing Partner. "This literally represents a 'blue ocean' of investment opportunities compared to other sectors which are viewed as 'red ocean' such as auto-tech, fintech, and others with investors competing over opportunities. We are seeking solutions born and raised for the maritime and logistic sectors ("pure-play" startups), however, we also specialize in our ability to introduce unique use cases from the sector to startups addressing other sectors, and create a win-win outcome to all involved."

The new fund comes off the back of its first fund, raised in 2018, which has been fully deployed into a portfolio of eight companies including Orca AI, DockTech, AiDock, and more. Whereas the first fund focused on pre-Seed investments, it is understood that 'theDOCK Navigator II Fund' will shift its focus to Seed to Series A opportunities that address the global challenges in the maritime and supply chain sectors.

theDOCK was founded in 2017 by Carmeli and Gartzman, each of whom is a graduate of Israel's naval academy and veteran of the country's high-tech scene. To date, theDOCK has partnered with a variety of accelerators and tech hubs, the Israeli Innovation Authority, and others. The fund will also place special emphasis on ESG (Environment, Social, and Governance) innovation which contributes to an industry facing urgent environmental, and social pressures.