Pentera becomes Israel's latest cybersecurity unicorn with $150 million Series C
The company, formerly known as Pcysys, was valued at $1 billion in its latest round
Click to view Israel's full list of unicorns

Israeli cybersecurity company Pentera announced on Tuesday the completion of a $150 million Series C at a $1 billion valuation. Half the sum will go to secondary deals and be used to acquire shares from veteran employees, managers, and investors, with the other half to enter the company's account. Pentera, formerly known as Pcysys, develops an automated penetration-testing platform that assesses and reduces corporate cybersecurity risks.

The round was led by K1 Investment Management, with participation from Evolution Equity Partners and Insight Partners.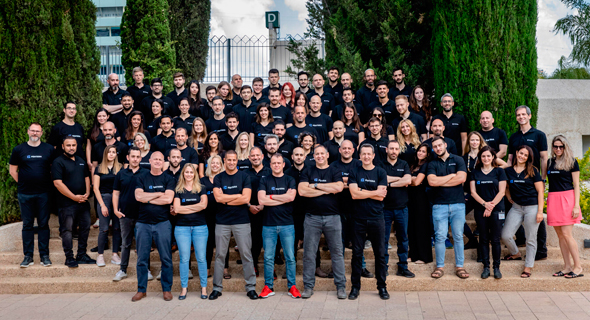 Pentera team. Photo: Eran Beeri

Pentera was founded in 2015 by Arik Faingold and Arik Liberzon and is managed by CEO Amitai Ratzon. "Pentera registered 97 deals in 22 countries in December and created $7 million in new revenue. We are nearing $20 million in quarterly revenue," Ratzon told Calcalist. "Most cyber companies analyze networks but don't actually do penetration-testing which highlights vulnerabilities. We launched a new product for ransomware in September and it can predict which ransomware attack a client will face."

The Pentera automated penetration-testing platform assesses and reduces corporate cybersecurity risk by identifying, analyzing, and remedying breachable vulnerabilities. Its uniqueness lies in its use of ethical hacking techniques rather than the more commonly used simulation method. The company emphasizes that its platform eliminates the need for human intrusion testers and physical access to customer facilities, allowing it instead to focus on remedying exploitable vulnerabilities. Pentera doesn't require the installation of software agents and relies on agentless technology.

The latest round caps a significant growth period for the company. Pentera added hundreds of new clients over the last year, including around 100 just in December, and its ARR has increased sixfold over the past two years. Pentera's technology is in use in over 400 clients around the globe – including five of Israel's seven banks, 10 government offices and agencies, and Israeli enterprises such as Shufersal, Teva, and Netafim. The company currently employs 150 people in Israel, the United States, England, and Germany.

"We are going to expand our product portfolio so that we will be able to attack exactly like all the threats out there, whether external or internal," added Ratzon. "In order to be able to do that we will double our R&D team to 140 people. There is almost no scenario in which we find an organization that is completely secure."