Appointments
Eleos Health appoints three healthtech veterans to its leadership team
Julie Merritt will serve as Vice President of Sales, Chuck Tepper as Vice President of Public Partnerships, and Merav Ben Ari as VP of People
Eleos Health, an advanced analytics platform for therapists, has announced that it has appointed Julie Merritt as Vice President of Sales; Chuck Tepper as its Vice President of Public Partnerships; and Merav Ben Ari as the new VP of People. Each of them is a veteran in the healthcare technology space.

"Over the past year and a half, Eleos has helped hundreds of clinicians focus their time and attention on patients instead of note-taking across tens of thousands of sessions," said Alon Joffe, Eleos Health CEO. "We've opened up access to vital mental healthcare sessions for thousands of additional patients at a key time in our society. To that end, we're thrilled to have Julie, Chuck, and Merav join our growing, visionary team."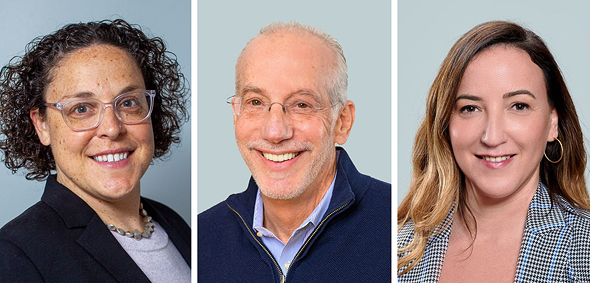 (left to right) Julie Merritt, Chuck Tepper, and Merav Ben Ari. Photo: Eleos Health

Meritt is joining Eleos with two decades of experience in sales of B2B software in the healthcare industry. Before Eleos, she was Executive Director of Partnerships at Teladoc, and one of the first sales managers at athenahealth. "I am excited to join a first-mover in an exploding industry," she said on her appointment. "Eleos Health is driving meaningful technical innovation with its ambient voice solution, strong market traction, and a very differentiated offering in the market."

Tepper was most recently the VP of Sales at myStrength and then at Livongo and Teladoc, where he built the provider market solution for over eight years. He added: "As someone who has seen the progression of behavioral health in the past 30 years, Eleos Health is revolutionizing the role of data in its care delivery. Clinicians today are burned out, and cannot meet the growing demand. It is time we build 21st-century tools for clinicians who support their needs and their workflows. I look forward to being part of the Eleos Health team and helping to drive further growth for the company."

Finally, Ben Ari is coming from Fabric where she led Human Resources, built leadership capability, and supported a continued culture of development and learning. Before that, she was Global Director of HR at SimilarWeb, where she acted as the General Manager of HR. "Eleos is entering into its next phase of growth. I'm excited at the prospect of Eleos and being a part of shaping the future of behavioral health," she said. "My role is in helping build the best possible team by tapping into the values of the company and finding diverse talent - both in Boston and Tel Aviv. The fact that the Eleos management team is comprised of 50% women is the greatest testimonial of that."

Eleos provides modern VoiceAI capabilities and helps clinicians and care teams provide access to more personalized care. Its technology runs in the background of behavioral health sessions, analyzing hundreds of data parameters with each session, helping clinicians make data-informed decisions. It was founded in 2019 by Joffe, Alon Rabinovich (CTO), and Dror Zaide (CPO) and has raised $6 million to date.