BiblioTech
CTech's Book Review: Assessing the importance of nonviolent communication
Ehud Yalin-Mor SVP, WiseStamp GM at vcita, shares insights after reading "Nonviolent Communication: A Language of Life" by Marshall B. Rosenberg Ph.D.
Ehud Yalin-Mor is the SVP, WiseStamp GM at vcita ,an email management software. He has joined CTech to share a review of "Nonviolent Communication: A Language of Life" by Marshall B. Rosenberg Ph.D.

Title: "Nonviolent Communication: A Language of Life"

Author: Marshall B. Rosenberg Ph.D.

Format: Book

Where: Commute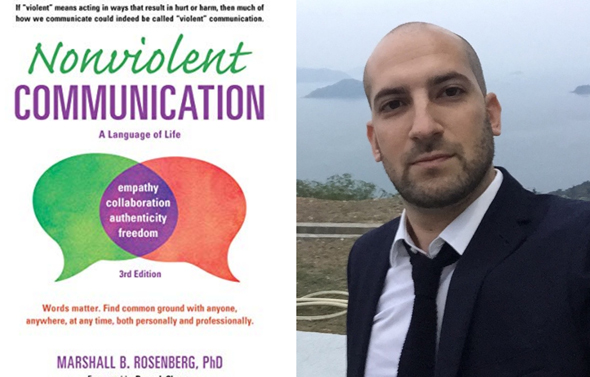 Ehud Yalin-Mor SVP, WiseStamp GM at vcita. Photo: N/A/Amazon

Summary:

Aware of Microsoft CEO Satya Nadella's success, when I first heard that he had his executive team read this book, I was intrigued. Often considered a 'soft skill', effective communication is essential for every manager. The ability to connect with people, understand their point-of-view, and communicate your perspective is key to any successful human interaction. And, as Nadella has proved, a must-have skill for leaders.

We normally think of violence as physical, verbal, or vocal action. Rosenberg goes far beyond that and demonstrates that many relationships, if not most, have a 'violent' component to them, which is often swallowed in the subtext or left unsaid. Using real-life examples, Rosenberg explains how to communicate effectively.

Important Themes:

In his first executive meeting, Nadella handed his senior leadership team copies of the book "Nonviolent Communication: A Language of Life", by Marshall B. Rosenberg Ph.D. Microsoft was notorious for its toxic culture and hostile work environment. Nadella's book choice signified the dawning of a new age at the company.

Nadella proves to be a great leader, steering a middle-aged software giant into the cloud-based future. Microsoft's market cap eclipsed $2 trillion for the first time and its stock has increased more than 700% since Nadella took office, succeeding Steve Ballmer. Some estimates show that close to 90% of Microsoft's current value has been generated under Nadella's leadership.

What I've Learned:

One of my key takeaways from this book is that violence often lies in things left unsaid. Walking away from situations assuming the other side understands our point of view and our feeling is optimistic at best. After reading this book I know the opposite is true. I learned how to effectively express my views of situations, how they made me feel, my needs, and deliver a clear ask from the other side. It improved my communication skills and strengthened my relationships at work and at home.

I consider communication to be such an important factor in the success of a team that I introduced "Nonviolent Communication" to my team through a dedicated workshop. We were pretty tight and direct to begin with, but it improved our communication and made it more effective in situations of disagreement. Communicating dissonances without being defensive or offensive is a valuable skill, which affects leadership, teamwork, and overall achievements.

Who Should Read This Book:

This book is not a magic wand. Effective communication is a muscle, and you need to work it to see improvement over time, and awareness is the first step. Having practiced nonviolent communication for a while, I can't say I always succeed, but that's my North Star. The book made me appreciate non-violent communication and aspire to it, personally and in my organization.