Analysis
From a unicorn to a penny stock in 180 days
Several of the Israeli companies that hit Wall Street at 10-figure valuations last year have seen their share price plummet to such an extent that they could soon find themselves in the unenviable position of being considered speculative
What do Kaltura, Otonomo, REE, Talkspace, Hippo, and Innoviz all have in common? All six are unicorns that have seen their shares become what is known on Wall Street as penny stocks within less than a year. As if losing their wings and horn wasn't enough, the fact that most of them went public via a merger with a SPAC (special purpose acquisition company), which are initially priced at $10, has resulted in them dropping to below $5 per share, the definition of a penny stock. All six are currently priced above one dollar per share, although Talkspace isn't that far off, being traded at $1.55. The online mental health care company has suffered more than the rest mainly due to internal issues, which resulted in the departure of its co-founders Oren and Roni Frank.

On the face of it, the price of the shares is no more than semantics, since what's important is the market cap of the company. In the case of REE and Hippo, both are also still valued at over $1 billion. However, one must know the culture and traditions of American investors, as well as what is perhaps a slightly weird way of thinking by investors from other countries, to understand that entering the penny stock club has negative ramifications on shares, their tradability, and a company's ability to raise more funds down the road.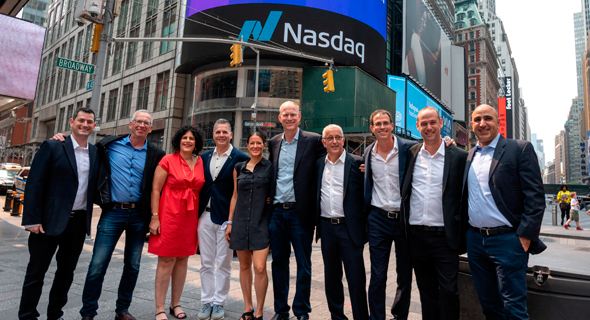 Kaltura management after going public on Nasdaq. Photo: Nir Arieli

U.S. investors, especially institutional ones, are deterred by stocks with a single-digit value and it is no coincidence that the initial price of SPAC shares is set at $10. That is the basic benchmark above which a share needs to be traded in order to be considered "serious". On the other hand, companies going public via the traditional IPO route will stay away from the $10 mark and will always aim for around $20 at least to provide themselves with some breathing room.

Even though the price of a share provides no indication of the value of a company, shares that trade for smaller sums are considered to be more dangerous. These shares that are easy to buy are more susceptible to manipulation and sometimes attract the fraudulent characters active on the markets. The real-life Wolf of Wall Street himself, Jordan Belfort, began his meteoric rise by trading these shares.

However, a single-digit share price is not a death sentence and can be recovered from. Over the past few decades, even Apple and Amazon were traded under $10 at certain points. It is important to note that none of the shares of the Israeli companies are currently officially considered penny stock as they have all entered the market recently and are not traded over-the-counter (OTC) the way most penny stocks are.

Should the drop in tech shares continue in 2022, and right now that seems like a likely scenario, Kaltura, Talkspace and the other companies will need to make some difficult decisions. Beyond the financial ramifications of the price share falling, the value of shares plays another important role. Stocks are a main tool in the battle over employees and a drop below the valuation stated in the options held by employees is a strategic crossroads for companies. Tech headhunters are very sophisticated and they deliberately approach employees at companies that have seen their share price fall.

One of the options companies have is to conduct a reverse stock split, combining several shares so that the price of one share will rise above $10. Companies could also use their own funds to buy back shares, but with investors expecting that money to support the firm's accelerated growth, this could generate negative reactions. For the time being, it seems likely companies won't do anything and rather buy time to see if the Omicron wave will result in a change of sentiment towards tech stocks the way the Covid-19 waves of 2020 did.