Kaltura finally hits Wall Street, raising $150 million at a reduced valuation of $1.3 billion
Israeli-founded video creation and distribution company will begin trading on Nasdaq on Wednesday after postponing IPO at $2 billion valuation back in March due to insufficient demand
Shares of Israeli-founded video creation and distribution company Kaltura will begin trading on Nasdaq on Wednesday. After postponing a planned IPO at a $2 billion valuation back in March, Kaltura will be entering Wall Street at a $1.3 billion valuation, raising $150 million. The company is offering 15,000,000 shares of its common stock at a price to the public of $10.00 per share. The shares are being traded under the symbol "KLTR".

Goldman Sachs & Co. LLC and BofA Securities are acting as lead book-running managers for the offering. Wells Fargo Securities and Deutsche Bank Securities are also acting as book-running managers for the offering.

Kaltura called off its IPO in March as the demand for its shares wasn't as high as it had hoped.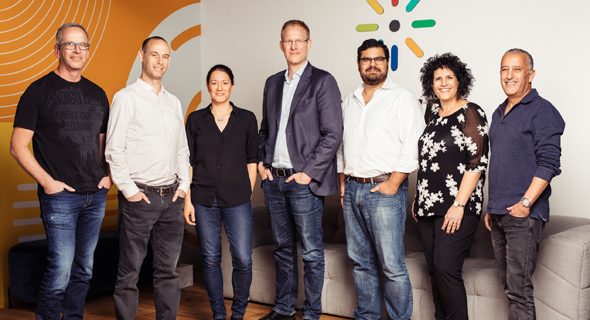 Kaltura executives. Photo: Micha Lovton

Kaltura was founded by CEO Ron Yekutiel and CMO Dr. Michal Tsur, who also serves as President and General Manager of the Enterprise & Learning division, Eran Etam, and Dr. Shay David. Its chief financial officer is Yaron Garmazi. The company employs 600 people, half of them in Israel, including in its R&D center which is based in Ramat Gan. The company also has offices in London, New York, and Singapore.

According to its prospectus filed in March, the company's revenues in 2020 reached $120 million, up from $97.3 million in 2019. The company listed an $8.1 million operating loss in 2020, compared to its $2.8 losses in 2019. Aside from the operating margin losses, the company reported its earnings before interest, taxes, depreciation, and amortization (EBITDA) as $4.3 million in 2020, showing a slight increase compared to 2019. It also reported an interesting figure detailing how it cut back on flight and marketing expenses by some $1.7 million due to the pandemic.

Kaltura operates on two main channels, in the areas of media and education for organizations, and provides complete video infrastructure for different media channels and video systems for educational institutions and large organizations. The prospectus detailed that the areas of media and education remain dominant sources of revenue, with education yielding some $80.4 million and media generating $40 million in revenues. The company's R&D expenses were $29.5 million in 2020, showing a 22% increase compared to 2019. Kaltura has over 1,000 customers, 25 of whom are Fortune-100 companies, and 51% are leading educational institutions in the U.S. Its list of customers includes Oracle, Berlitz Corp., Wells Fargo, Bloomberg L.P., and Vodafone Group PLC.