Fintech startup Bizi raises $7.5 million Seed funding to offer SMBs credit lines
The round was led by Israeli-founded fintech company BlueVine, whose technology will be used by Bizi
Fintech company Bizi, which provides small and medium-sized businesses in Israel with credit lines, has raised $7.5 million in Seed funding. The round was led by Israeli-founded fintech company BlueVine, whose technology will be used by Bizi, as well as Israeli insurance company Phoenix and Orshay, a company which provides non-banking credit.

BlueVine, which is investing in an Israeli company for the first time, has been active in the U.S. over the past decade, providing a banking platform for SMBs. Bizi will use the funding to develop its product and enter the Israeli market, providing credit for businesses through an instant and digital platform.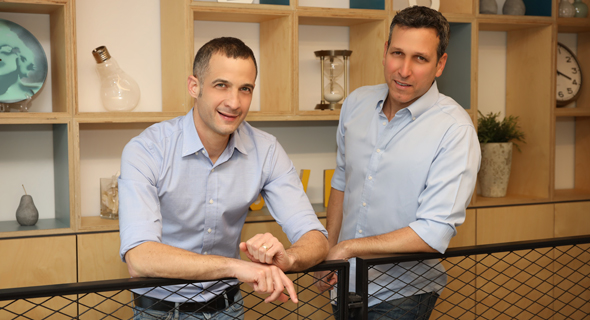 Bizi CEO Ido Lusting (left) and COO Saar Zachrish. Photo: Meirav Ravitz Moshel

Bizi CEO and co-founder Ido Lustig told Calcalist that the company will provide credit lines of up to NIS 500,000 (approximately $156,900) for businesses with up to 20 employees and up to NIS 20 million in revenue ($6.27 million). "The U.S. model isn't similar to our model and we know what to look at and what to ignore. We take an existing and proven methodology that works well in the U.S. and adapt it to Israel," Lustig told Calcalist.

"We are a completely independent company which uses BlueVine's technology," explained Lustig. "We will be completely digital at every stage of the process. The client will receive a credit line and as soon as they use it will repay it in 12 installments. Until that stage there will be no costs. Our interest rate is more expensive than the banks, but it is far more convenient and comfortable."

Bizi was founded last July by Lustig, who had previously served as CRO and General Manager International at BlueVine, as well as a Senior Risk Manager at PayPal. Bizi also announced on Sunday the appointment of Saar Zachrish as COO. Zachrish previously served as Chief Digital Officer at Bank Hapoalim's Innovation Division.