Amdocs introduces unlimited vacation policy, registers record revenue
The extra days will be given in coordination with the direct managers and they can be anything from a few single days for errands and up to a week or more for a family visit or any other need
Tech giant Amdocs, which employs 29,000 people, including 5,000 in Israel, is moving to a new work model that allows employees to take unlimited vacation days. According to the model, each employee will be able to take an unlimited number of vacation days beyond their annual quota. The annual quota will be legally maintained and each employee will have a number of days off in accordance with their contract, which can be redeemed when they leave the company. The extra days will be given in coordination with the direct managers and they can be anything from a few single days for errands and up to a week or more for a family visit or any other need. The plan will take effect this coming March, making Amdocs the first major employer in Israel to adopt this model. Israel and the United States are among the first countries in which the program will be launched and later it will expand to other countries in which the company operates.
"We recognized the need for flexibility even before Covid-19 hit and moved to a one-day work from home model before the pandemic broke out," said Judith Yampolsky, head of Amdocs People, which is responsible for Amdocs' global HR division, in an interview with Calcalist. "Unlimited vacation days are for us the next tier designed to eliminate the worry regarding vacation days. We do not want anyone who has small children to be debating whether to stay with them in isolation for a day or two thinking that it may affect their allotment of summer vacation days. I want to stop the deliberation and calculation regarding days off as employees try to manage their private lives alongside work. I believe this new model will lead to increased productivity."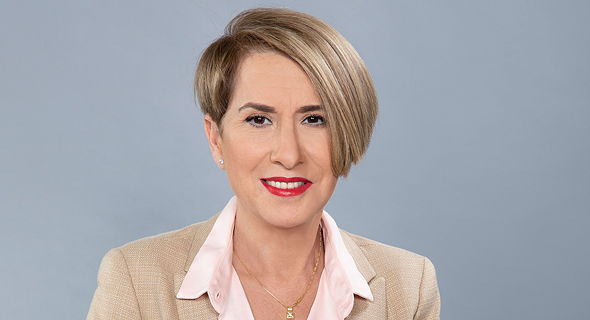 Judith Yampolsky, head of Amdocs People. Photo: Adi Orni
The move by Amdocs comes at a time when a war for manpower is being waged between high-tech companies. Amdocs, as a veteran and less glamorous company, often finds it difficult to compete for employees, especially the younger ones. Last year, Amdocs launched a new campaign starring Israeli pop singer Noga Erez to attempt to attract younger high-tech employees. In the meantime, however, those young job seekers prefer startups, a trend that may change if the upheaval on Wall Street continues and affects the private capital market as well.
"We do not yet see a halt in wages, but it will happen. The high-tech sector has become saturated with competition for money and it will move to another level," Yampolsky said. "In the end, what matters to employees is more than just earning a few shekels or dollars more, and young people, even if they receive offers of NIS 40,000 immediately upon discharge from IDF technology units, should also keep in mind that careers are long and gradual development is also important."
Meanwhile, Amdocs last night (Tuesday) released its financial results, which beat the forecasts. The company's revenue totaled $1.1 billion in the last quarter of 2021, an 11% increase over the same period and an all-time high. Most of the revenue, $745 million, came from North America where Amdocs has long-standing contracts with major communications services operators. Net income was $150 million or $1.2 a share, one cent above forecasts. Cash flow from operations totaled $204 million in the quarter. Amdocs' backlog now stands at a record $3.8 billion and against this background it expects to grow both this year and in the next two years at a rate of 6% -10%. In the coming quarter, Amdocs expects figures similar to those of the last quarter with revenue of $1.1 billion and net income of $1.22-1.28 per share.
Amdocs is traded in New York at a value of $9.5 billion, with its stock remaining relatively stable since the beginning of the year despite the general decline in technology stocks.