Is slew of small cybersecurity exits a sign of things to come?
"2022 will be a sobering year in which the leading companies will be separated from those that can't keep up with the pace of growth," said Yair Snir, Vice President, Managing Director at Dell Technologies Capital
The four Israeli cybersecurity startups acquired over recent weeks had one thing in common - they were all purchased for relatively low sums. TrapX was bought by Coomvault for several tens of millions of dollars, CyberMDX was acquired by Forescout for $80 million, RapidSec was purchased by Orca Security for just $5 million and Spectral Cyber was procured by Check Point for $60 million.

This trend seems to indicate that 2022 will be nothing like 2021 in which there were numerous acquisitions for significant sums in the cybersecurity sector, like that of Siemplify by Google for $500 million or Guardicore by Akami for $600 million.

"2022 will be a sobering year in which the leading companies will be separated from those that can't keep up with the pace of growth," Yair Snir, Vice President, Managing Director at Dell Technologies Capital, told Calcalist.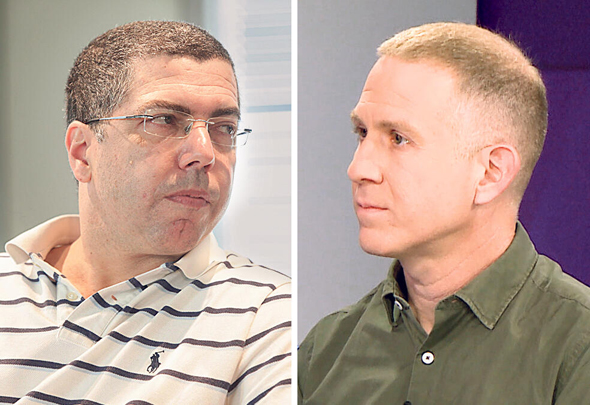 Yair Snir (right) and Arik Kleinstein. Photo: Amit Shaal and Calcalist Studio

For some of the companies acquired this year the exit was a successful ending to a short journey while for others it was a grim finish to a long road. In a recent interview, Yevgeny Dibrov, co-founder and CEO of cybersecurity unicorn Armis, stated that there will be many Israeli cyber startups acquired over the coming months as there is no room in the local market for companies active only in a very specific niche. He clearly knew what he was talking about. An example of one such deal is the acquisition of TrapX, which raised a total of around $40 million for its cyber deception platform, a sector that has fallen by the wayside in recent times. The startup was sold to American protection and data management software company Commvault for tens of millions of dollars, likely similar to the sum invested in the startup over the years. Among TrapX's investors were the likes of BRM, Intel's investment arm and others. The company was founded in 2012 by Moshe Ben-Simon, a former data security expert in the Israeli Air Force, and Yuval Malachi, who also founded Zeroday Security.

A similar acquisition completed last week saw Israeli-founded company Forescout purchase CyberMDX for an estimated $80 million. The Israeli startup had raised around $30 million previously from the likes of Pitango, OurCrowd and Sham. In comparison, Israeli startup Medigate, which is also active in the healthcare security sector, was bought for $400 million by Claroty last year. "There have always been relatively small acquisitions in this sector but I believe we will also continue to see big acquisitions," Arik Kleinstein, founder and Managing Partner at Glilot Capital Partners, told Calcalist. He believes that there won't be any drop in investments in cybersecurity due to the growing awareness of the threat posed by such attacks.

Snir also highlighted the fact that this year's acquiring companies are relatively smaller companies and not the giants that once dominated this market. "The financial capabilities of these companies are extremely limited. Many companies will consider a small and fast exit over the coming months. I feel that some companies will grow very aggressively and the startups that don't soar will pass on the journey and get acquired at an early stage," explained Snir. However, he doesn't believe there will be a significant drop in investments in cybersecurity this year. "Even if there will be a drop in investments overall, I don't think cybersecurity will be affected much."

One of the more successful exits of recent months saw Check Point pay $60 million for Spectral, which had only raised a very small amount throughout its existence. Another purchase in the sector, however, saw RapidSec get acquired by Orca for just $5 million in cash and shares. RapidSec had only raised a few hundreds of thousands of dollars previously.

Snir and Kleinstein explained that investors are likely to be more cautious in the coming year, especially when it comes to companies active in sectors with plenty of competition. "A lot of entrepreneurs are starting to understand that it is difficult for them to grow at a fast pace and decided to sell after not becoming leaders," said Kleinstein.

There are many cybersecurity companies in Israel that are not only competing against the sector's giants, but also with one another. Medigate and CyberMDX are just one such example and both ended up joining bigger companies and becoming part of their offering rather than remaining completely independent.

"It is important to remember that cybersecurity is around not because of the investments in the sector but because crime is increasing and the awareness of the threat is also on the rise," noted Kleinstein. Uri May, co-founder and CEO of Hunters, which recently raised $68 million, is also confident cyber will not be affected by the drop in the market. "Cybersecurity will be the last sector that suffers from cuts," he told Calcalist.