Sports-tech startup Sidelines scores $25 million funding round
The Israeli company, which branched off Natural Intelligence, develops a platform for social sports betting experiences
Sidelines, an Israeli startup company founded by two former Google employees, announced on Sunday the completion of a successful $25 million funding round led by investment firms NFX and MoreTech. Sidelines specializes in the development of a platform for social sports betting experiences.

The main shareholder in Sidelines is Natural Intelligence, owned by Nir Greenberg, which acquired Sidelines in 2019. In 2021, it was decided to branch off Sidelines and raise money for it separately.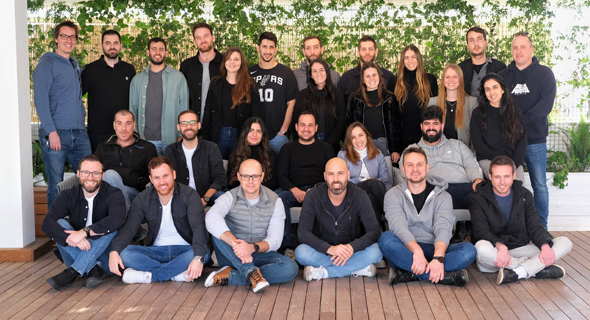 Sidelines team. Photo: Yochai Shaked Gavish

In a conversation with Calcalist, Or Lifshitz, one of SIdeline's founders and CEO, said: "We founded the company in 2017 with the goal of making the field of sports accessible to young people in the United States. We collect a lot of information from sports sites and make it very accessible to users who want to create social interactions similar to fantasy games. We offer our users a visual analysis of sports betting. We use our technology to identify price differences and market opportunities and present them to anyone who is interested at no cost."

The company reports that in recent months it has grown significantly, and recorded a dramatic increase in revenue and number of users compared to 2020. As mentioned, most of the company's activity is in the world of sports betting. In places where sports betting is allowed, Sidelines refers to gambling sites that are important to its customers such as MGM, FOX Bet, DraftKings and more. "Most users do not want to be involved in sports betting with money but prefer it as a social experience with other users. For Americans sports is a social experience and we allow them to create such an experience around sports betting," said Lifshitz.

Similar to Natural Intelligence, the majority of Sidelines' revenue today is from referring to other sports betting sites and advertising companies in the field. "Today we are not there yet but in the future we will be able to offer organizations and people who want to do joint events or a joint game to do it through us and monetize it as well as connect to the media through which we will offer all our users relevant sections for them," said Lifshitz.

Sidelines was founded in 2017 by former Googlers Or Lifshitz and Rotem Haber. The company currently has 50 employees, with 35 of them in Israel and the remainder in Poland, the Ukraine and the U.S.