Boarding Pass
Zoog's pandemic-driven pivot to generational communication
Zoog has already raised $720,000 to help enhance inter-generational communication through technology
The pandemic caused many companies to pivot their business strategies, adjust their tech, or even sideline new updates or features until the world could open up again. However, there are also companies like Zoog that were born from pandemic-era moments like lockdown and the inability to see family members at a moment's notice.

"The most immediate effect I personally felt was not necessarily in the line of my work, but rather how my children were directly impacted by the boundaries and hurdles that the pandemic brought with it," explained Yoav Oren, Co-founder and CEO of Zoog. "Communication took the first impact. Suddenly, we were isolated from the world and all communication turned to video - with Zoom and FaceTime leading the way in our families. My kids couldn't stand this. In fact, they couldn't do it at all and did anything to avoid these calls with their distant relatives."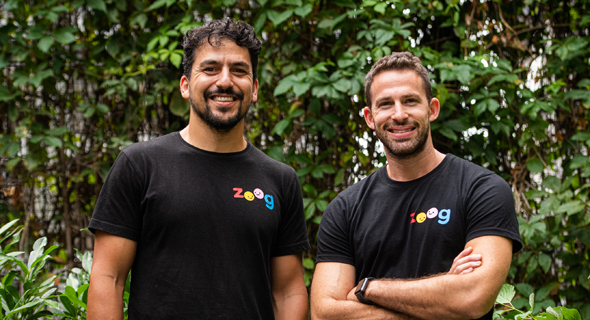 Matan Guttman and Yoav Oren. Photo: PR

This problem led Oren, together with his co-founder Matan Guttman, to create Zoog - an AR video communication tool that helps children connect with their grandparents over mobile apps.

Company ID

Name: Zoog

Sector: Communication

Product/Service description: Zoog is an asynchronous-first communication platform for families, powered by immersive AR content and activities. Through Zoog's mobile app, anyone can bring a book, or other types of content to life and literally become "part of the story" utilizing AR masks, filters, and other visual overlays.

We created Zoog so that even oceans and generations apart, your family can enjoy meaningful moments through immersive storytelling and creative interactions.

Founder Bios:

Yoav Oren: Prior to founding Zoog, Yoav was the Entrepreneur in Residence (EIR) at Remagine Ventures. Before joining Remagine, he held several leadership positions at SimilarWeb. He served as the company's Chief of Staff, working hand in hand with the CEO and the senior leadership team. He was also responsible for establishing and managing the company's China operations and served as the General Manager of Greater China. Yoav holds a bachelor's degree from Columbia University in East Asian Languages and Cultures and Chinese (Cum Laude), as well as an MBA from Shanghai Jiao Tong University (Summa Cum Laude). Yoav is also a veteran of one of the IDF's Elite Commando units, where he was wounded in action. In addition, Yoav is a martial artist, and is a certified instructor in several styles. He holds an instructor certification from the Wingate Institute in Israel.

Matan Guttman: Matan is a software developer, tech leader, and product manager with expertise and a passion for consumer applications. Before launching Zoog, Matan was the first hire of Zengo, where he led the efforts of building the startup's main product to reach a scale of hundreds of thousands of downloads within the first year and a half (the product has continued growing significantly since then). Before that, Matan helped build the R&D department of the hospitality startup - Sweet Inn. He was also amongst the first employees of 24Me, where he helped build and scale the product to millions of MAU. During his university years at IDC, Matan worked for a medical software company called iMDsoft. Combining work and school, Matan graduated with honors and was accepted to the prestigious Zell Entrepreneurship Program. Prior to launching his career in tech, Matan served as an officer at the IDF and was posted in the Gaza Erez crossing for most of his service.

Year of Founding: 2020

Last Investment Stage: Pre-Seed

Total investment to date: $720,000

Investors (leading and all):

Remagine Ventures, Joy Ventures, ZEP Fund, Comcast NBCUniversal, and Techstars.

Current number of employees: 7 Full-time, 11 overall

Open positions: Head of Growth, Head of Marketing, Android Mobile Developer, AR Engineer

Website:

Social links: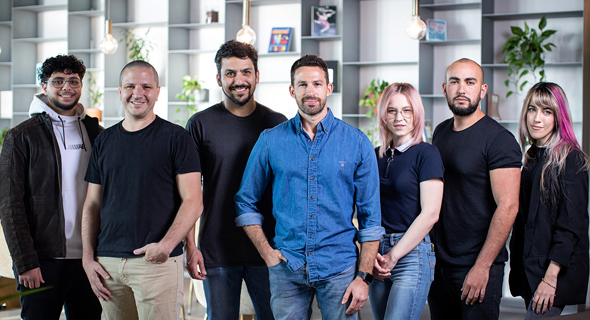 The Zoog Team. Photo: PR

Interview:

How was the idea born?

When the pandemic hit us all, the world as we knew it changed overnight. Everyone was affected by the changes that COVID brought, especially feeling the uncertainties of how the world will change and when we will go back to normal. However, the most immediate effect I personally felt was not necessarily in the line of my work, but rather how my children were directly impacted by the boundaries and hurdles that the pandemic brought with it.

Communication took the first impact. Suddenly, we were isolated from the world and all communication turned to video - with Zoom and FaceTime leading the way in our families. My kids couldn't stand this. In fact, they couldn't do it at all and did anything to avoid these calls with their distant relatives.

Despite my wife and I nudging them to spend a few minutes on the phone with their grandparents, they couldn't do it. I learned that they experienced these calls as boring and repetitive, and they simply weren't interested in small talk.

This created a frustrating situation for all parties involved in the call: for my kids who simply wanted me to leave them be, for my parents who were used to communicating or seeing their grandchildren and suddenly were not able to, and for us as parents, feeling like we needed to bribe our kids every time we wanted them to spend some time with their grandparents, or other distant family members on a call.

This cross-generational video communication problem also presented a unique opportunity. Video communication, for the first time, became the overarching norm in the world and affected us in the business world, the education world, and even in our own homes - everyone got used to the fact that this is the new way to communicate and felt the need to evolve and adapt. This opened a special window of opportunity for us to solve a growing problem that would only become more severe, while also giving us the opportunity to work on something that we were affected by in our own homes. In addition, we felt that our initial target audience, young grandparents, were ready and receptive to video products more than ever before.

We found a problem that directly affected not only us, but the people who we cared about the most; we found purpose and right then decided to quit our respective jobs, take the leap of faith, and build Zoog.

What is the need for the product?

Most communication tools today are generic one-size-fits-all tools that aren't focused on cross-generational communication. Finding the right remedy that on one hand will get children engaged and excited, and on the other hand offer even grandparents a fun experience that they will want to come back to is not an easy task and one that we are constantly testing and refining.

Here's what we have learned and do know:

- Content and communication are becoming intertwined more than ever, especially with children.

- Children's stimulus threshold has risen significantly due to the type and variety of content that they are exposed to.

- Grandparents have become accustomed to using various video communication tools and, in general, are becoming more tech-savvy

Zoog takes these findings into consideration while developing a product that on the one hand is easy to use, intuitive, and fun for the storyteller (grandma), and super engaging, stimulating, and personal for the child. Through these engagements, we are able to establish the right bond that both sides want and need, which is seen through our high levels of retention and returning users.

How is it changing the market?

While all of Zoog's competitors are focused on live video communication combined with simple interactions, one of the key learnings from our POC was that for a call to take place, there are a lot of moving parts that need to align: The kids need to be home and available, the parents need to be home and available, and the grandparents the same. This synchronization is difficult.

There are other external factors that play a key role in these interactions as well:

Internet connection, different time zones, and other factors such as the kids' mood and ability to stay focused throughout a call, the grandparents' ability to drive the interactions and keep the kids engaged to name a few.

In addition, we are also aware of the fact that children today communicate differently than we do. Most kids would rather text and send recorded messages than have an actual phone call. We need to address these realities, which is precisely why we are building a tool that takes all these issues into account.

That's why Zoog today is an asynchronous-first communication platform for families, powered by immersive AR content and activities. We are in the process of reintroducing live as another feature within Zoog, but the key for us at first was to establish a connection in the easiest way possible.

With 5G being around the corner, we'll be able to upload videos faster than ever before and provide an even better experience to our users.

Essentially, we are creating an experience kids will love to watch, and this will allow the grandparents, or any other family member, to record content and deliver an amazing and personalized product to the kids who will be able to save it, forever.

How big is the market for the product and who are its main customers?

We have two target audiences: 1. Children between the ages 1-10. Our second target audience is young grandparents/baby boomers (55-75). Digital engagement among this generation has grown dramatically. From mobile to social, gaming to streaming, we've seen boomer numbers go way up during the pandemic on all digital fronts.

There are over 70 million grandparents in the U.S alone, a number that is due to grow by 24% in the next 20 years. Most of these grandparents get to see their grandchildren twice a year, yet spend a significant amount on gifts for their grandchildren - above $175 billion/year to be exact.

This number ($175 billion) alone is a massive market opportunity, add it to the e-book and audiobook markets that are already huge and expected to grow significantly in the next five years, while the largest segment of growth is in children under the age of 12, and we are looking at a huge and largely untapped market.

Does the product exist already? If not - at what stage is it and when is it expected to hit the market?

Zoog is already live. We are currently working on the Android version of the app, which should be available later this year.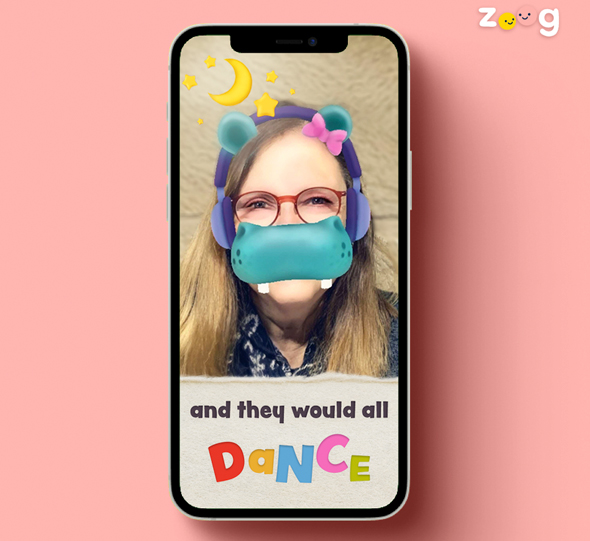 A look at the Zoog app. Photo: PR

Who are the main competitors in this sector and how big are they?

Our top competitors are: 1. Caribou; 2. Together Video App; 3. Yoto; and 4. Portal

Another competitor has recently joined the stage, Amazon and its release of Amazon Glow. Amazon Glow is another piece of (clunky) hardware that combines a camera and projector. The use case-connecting grandparents with their grandchildren in a fun and engaging way.

What is interesting about this for us, is seeing that even tech giants, like Facebook and Amazon, are focused on solving the same problem that Zoog is: fixing cross-generational communication.

What is the added value that the founders bring to the company and the product?

Matan and I bring a unique skill set to the table. Besides our hands-on consumer experience, we are solving a problem that directly impacts us both as fathers to young children as well as sons of our target audience. We also have diverse business experience in several markets.

What will the money coming in from the round be used for?

The money for the round will primarily be used for content creation, development (as said, we are working on our Android version), and of course marketing.

Is there anything else you want us to know?

Zoog recently partnered with Snap, becoming one of the only companies in the world with access to Snap's Camera technology, enabling us to produce the best AR content in the world and utilizing Snap's massive network of AR creators who will now be able to create content directly on Zoog. We also started working with DreamWorks as well as other key brands.

In the "Startup Boarding Pass" section , CTech will cover the (relatively) small investments made in companies during the early stages of their existence - and the entrepreneurs and startups who have not yet had the opportunity to reveal their stories to the world. Please use the linked form and fill it out according to the guidelines. This form is intended for startups raising between $500,000 and $3 million from venture capital funds, angels, or official grants from Israeli and foreign institutions. If relevant, someone at CTech will be in touch for follow-up questions.