Freelancers salaries surge amid pandemic and digitization
The Covid-19 pandemic led to a rise in demand for freelancers, and their salaries followed suit. According to research conducted by Payoneer, most freelancers are between the ages of 18-34 and are expecting the boom to continue
Two years ago, being a freelancer was considered a burden, but the pandemic has changed all that. A new survey conducted by Israeli fintech company Payoneer has shown that over the past two years, freelancers have seen a leap in demand for their services which has translated into a dramatic rise in salaries. And that's how a sector that was previously considered a lowly form of employment, where people are unwilling to commit to a single employer, has become the preferable method of employment for Millennials, who want to choose their own work hours and manage their own workloads. The Payoneer report, which is being published for the fifth year in a row, is based on a survey that questioned 2,000 freelancers in 100 different countries, including Israel, where many freelancers use its products for financial services.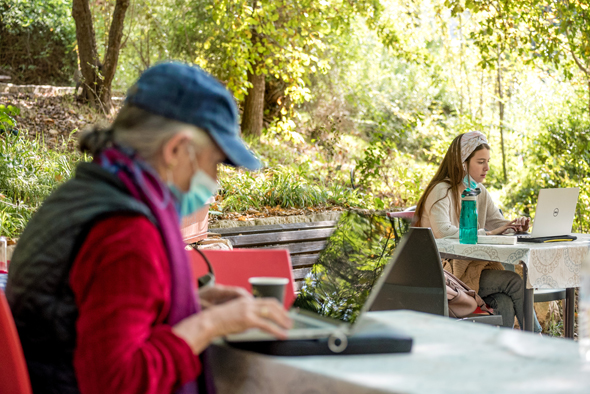 Photo: Yoav Dudkevitch

The most notable finding in the survey is the sharp rise in the average hourly wage of a freelancer - from $21 in 2019 to $28 in 2021. This is a 33% increase over a two-year period, and is dramatic compared to the 10% rise between 2018 and 2019. Despite an expansion of the freelancer market since the outbreak of the pandemic in 2020, this is the highest wage increase since Payoneer began conducting the survey, with an estimated 12% of freelancers switching to this form of employment in 2020.

Some 40% of those questioned in the survey said that since the beginning of the pandemic they are able to demand higher wages due to a rise in demand, and only 12% said that their hourly wage dropped over this period. Some 32% of those questioned recorded a sharp rise in demand for their services, and 45% said that their demand has remained steady without a decline. Young freelancers, who know how to easily navigate digital platforms to mediate their services between employers such as Israeli Fiverr or its American competitor Upwork Inc., were the main population who reported the growing rise in demand. According to Payoneer, this became more prominent during the pandemic period, where new freelancers who joined the market struggled to find work due to lockdowns and turned to freelancer work instead. The 25-34 age group is the largest among freelancers, with more than half of freelancers being in the 18-34 age group.

As for gender differences, female freelancers still earn less than their male counterparts, although the wage gaps are lower between genders compared to other types of employees, with wages averaging $23 per hour among female freelancers compared to $28 per hour among men. However, the share of women is constantly rising and in 2021 women comprised 29% of the freelance market compared to 24% in 2019.

According to the survey's findings, freelancers aren't afraid that the growing rise in demand will change direction even if the pandemic comes to an end. Some 73% estimate that the demand will increase, while an additional 9% believe it will stay the same. Some 16% note that they are unsure what awaits in 2022.