Israeli tech companies are bracing for Ukrainian crisis escalation
Numerous Israeli companies have R&D centers in Ukraine and some are already relocating employees due to the fear from a potential Russian invasion
With growing concerns regarding potential Russian plans to invade Ukraine, and with NATO countries threatening sanctions, Israeli high tech companies who employ workers in Ukraine - mainly engineers and software developers - are now on high alert and prepared for any possible scenario.

And while life in Ukraine is carrying on, some companies have claimed the tensions have led to a decline in their output, while others are claiming that the atmosphere airs business as usual, and not only in the workplace but also on the streets and in local entertainment venues.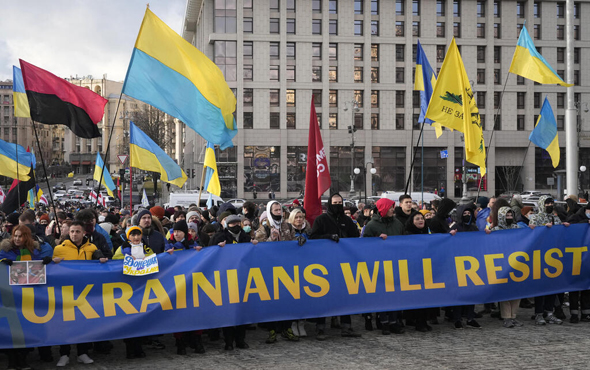 Tensions are rising as Ukraine prepares for a possible Russian invasion. Many are staging protests along the border. Photo: AP

"Work in Ukraine hasn't hit pause, but there's been a decline in output. Employees are concerned, and are worried about their families. Tensions are growing. Israeli managers who were employed in Ukraine left, and there's a feeling of stress in the air. We sent some of our employees care packages, just like we'd send to Israeli communities near the Gaza Strip during a war," Alon Reiter told Calcalist. Reiter serves as VP of HR and Outsourcing for Aman Computers, which provides outsourcing services and projects at a number of sites including Ukraine, Russia, Serbia, and Portugal.

Reiter estimates that there will be a slowdown in company productivity if Russia decides to invade Ukraine, which will spell bad news for many Israeli high tech companies. "I estimate that if a war breaks out, there will be a gradual effort to relocate several Israeli R&D centers from Ukraine to other places, such as Portugal. Portugal has many perks since it's part of the European Union, has a large computer science specialist/technical community, like Israel, and prices there are only slightly higher than those in Eastern Europe, but still lower than in Israel," he said.

However, Alexey Chalimov thinks differently. He serves as CEO of Eastern Peak which employs 250 people in Ukraine, including software developers and engineers. Eastern Peak provides services to high tech companies, of which nearly 40% are Israeli. "Yesterday, I came back to Israel after I spent the past two weeks in Ukraine and the airport was empty, but everything else was normal. At our company, 20% work from the office, and the other 80% work remotely from home due to pandemic restrictions. Even restaurants and streets are functioning like normal. It's only the Western media that is getting all worked up," he says.

Chalimov thinks that even if Russia decides to invade, it will be similar to its last one in the Crimean Peninsula in 2014. "I was shocked by what I've seen in Israeli media. Even when there's a war going on in Israel with Gaza, and everyone is on their toes, in Israel people leave their houses like any other day, and it's the same in Ukraine. This situation isn't new - it's been around since 2014. Back then, there was shooting in the streets and Russian forces invaded (and later annexed) the peninsula. None of our customers has been harmed, and we've taken extra care to pay our employees since banks aren't open. We've also taken efforts to provide internet access, so that not a single customer or employee feels the repercussions. We're prepared for any possible scenario, but I don't think it will be worse than what happened in 2014."

But Chamilov's customers - who hail mainly from Israel, the U.S., and the U.K. - are worried and constantly call to check in on the situation. "We have offices in Bulgaria and Cyprus, and if it was necessary we'd relocate our employees there but I really don't think it'll come to that," he says.

Galit Rabi-Kvetny, VP of HR at Guesty, which employs 400 people around the world - including 40 development and support personnel in the Ukrainian cities of Kyiv and Lviv - thinks that managers in Israel are more stressed about the situation than those in Ukraine. "We're in constant contact with them. We're prepared, but there's a sense that the teams in Ukraine are okay and don't feel like this is affecting their daily routines. We're prepared for any possible scenario where we'd have to relocate our employees - they, however, don't think that's on the agenda just yet. In Israel, we're feeling the tensions and are on high alert concerning the events unfolding on the Ukrainian-Russian border. But if you think about it, it's sort of like how others worry when they hear there are sirens going off in Tel Aviv, but we continue life as normal. We're worried about our employees in Ukraine, but they seem fine," she says.

The company is prepared to move workers away from battle zones or temporarily transfer them to Poland or Israel. However, as of now things are continuing as usual, and the company is still currently recruiting new employees in Ukraine.

AppsFlyer, an Israeli company that develops a platform to measure and optimize marketing operations, currently employs 30 people in Ukraine. It offered to temporarily relocate employees for three months with an option to extend the stay based on the unfolding situation. "Our employees can choose to relocate elsewhere in Ukraine or to a different country, or whatever they find most suitable. They'll receive a $1500 stipend every month to help them with the move. Currently, three of our employees based in Ukraine have expressed a desire to move elsewhere, one chose Cyprus," says Moran Shoham, AppsFlyer' Senior HR Director.

"It's important to note that if the situation worsens or continues, we'll continue to be attuned to our employees and their needs. We'll do whatever it takes so that they feel safe," she adds.

"In addition, all of our employees are eligible to receive services from our Be Well program, where they can receive support for a variety of private issues including psychological help. Employees or their families can call a phone number in their country of residence and undergo a preliminary chat with a professional who spots their exact need, and can provide them immediately with psychological help. Afterward, if the employee chooses to undergo long-term therapy, he or she can turn to a professional who will provide them with those services over an extended period. Sessions take place either over Zoom, the phone, or face to face, in accordance with limitations," she says.

WalkMe also has a similar story: one employee requested to leave Ukraine and be transferred to nearby Moldova, while the rest have chosen to remain in Ukraine and maintain their routine. "We opened up our Ukrainian branch a few months ago, and now employ 45 people there as part of our development team. Aside from that, we permit our employees to use the hybrid work model, but still feel responsible to take care of them and their families as far as the security situation is concerned," said Ofer Karp, EVP of Engineering at WalkMe.

"Our Israeli teams remain in constant contact with their Ukrainian counterparts; our management teams are conducting ongoing discussions with them, both in the mornings and evenings, and also to ensure that we are updated with regard to their situation and are providing solutions to their emerging needs. We also want to instill confidence and make sure they know that we are here and will do everything we can to help them," he says.

"We are alert that the ongoing situation in Ukraine could lead to financial disruptions, such as government-imposed limitations on credit card expenses. Banks could also limit how much cash a person could withdraw. Currently, we're devoting our efforts to devising solutions in order to ensure that our employees will be able to cope with whatever happens, and want to remove their apprehension."

BigID is also prepared for what might happen next. The company develops a platform for managing and enforcing online information privacy policies, and also operates an R&D center in Ukraine, employing dozens of workers through a local company. "About a month ago we asked our employees how they'd like us to help. We conducted a survey to examine what their preferences were, whether they'd prefer we assist them with relocation, and if so, to where. Our survey found that most people consider relocating an ideal solution. To that effect, we built a dedicated, solid plan, which can be implemented if necessary. At the beginning, everything appeared very stressful and people expressed a sudden desire to leave. But over the past few weeks, we've seen them calm down. We're still maintaining close contact and want to help them as much as we can. We still have ongoing day-to-day discussions on the matter," said Nimrod Vax, co-founder of BigID who also manages the company's operations in Israel.

Although the company's Ukrainian workers are employed through a local company, they also receive all the company's perks. As to the question of how a relocation will be conducted in the event of a Russian invasion, Vax said that if done beforehand flights won't be an issue. The second option, he said, for employees who choose to leave post-invasion, will see people travel to Poland by car, and either stay there or choose to fly from there to another country. The company has stated that it will cover all travel expenses.