Cloudinary employees net $110 million in secondary deals at $2 billion company valuation
The Israeli company reached $100 million in annual recurring revenue last year with its automated, AI-powered media management platform
Numerous Israeli startups have raised massive sums over recent years, with many also reaching the much-coveted $1 billion valuation and Unicorn status. Israeli company Cloudinary, which has developed a platform to manage media assets, is very different in that aspect as it has never raised any funds for the company coffers since its foundation in 2012. However, the company executives nevertheless understood recently that the time had once more come to allow employees to sell part of their stakes while bringing in professional investors to the company. Cloudinary announced on Tuesday a secondary investment from funds managed by Blackstone Growth (BXG) reaching a sum of $110 million at a company valuation of $2 billion. Blackstone's investment follows three previous secondary rounds, by Salesforce Ventures in 2020 and Bessemer Venture Partners (BVP) in 2018 and 2015.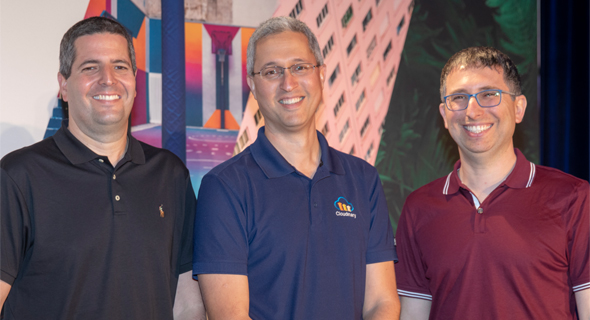 Cloudinary co-founders Nadav Soferman (from left), Itai Lahan and Tal Lev-Ami. Photo: Cloudinary

According to the company, it reached $100 million in annual recurring revenue last year. Last month, Cloudinary acquired Indivio, a video software company that helps marketing teams with hyper-personalized videos at scale that are customized in real-time for every target audience. Cloudinary's automated, AI-powered approach to media management makes it possible for brands to deliver rich digital experiences with dynamic images and videos at scale by eliminating operational inefficiencies and technology barriers.

Cloudinary was founded in 2012 by Itai Lahan (CEO), Nadav Soferman (CPO), and Tal Lev-Ami (CTO). The company says it has more than 50 billion assets under management and nearly 10,000 customers worldwide, including brands like Atlassian, Bleacher Report, Bombas, Grubhub, Hinge, NBC, Mediavine, Minted, Peloton, and Petco.

Cloudinary employs over 400 people, 200 of them in its Petah Tikva headquarters, and the rest in offices in Asia, Europe, and the U.S.

"We decided to conduct a secondary round for the fourth time since the founding of the company as a mark of appreciation to our employees and thank them for their hard work. This investment marks an important milestone for all of us here at Cloudinary," said Co-founder and CEO Itai Lahan.