Nintex acquiring Israel's Kryon for $100 million
Kryon's process discovery and robotic process automation (RPA) technology is used by the likes of AIG, Verizon, LTCG, and CP
U.S. company Nintex is acquiring Israeli tech startup Kryon to further extend the intelligent process automation (IPA) capabilities of the Nintex Process Platform. The terms of the deal weren't revealed, but Calcalist has learned that Nintex paid around $100 million for the Israeli company.

Kryon was founded by Harel Tayeb in 2011 and has raised $78 million to date, with its investors including Greenwich, Connecticut-based venture capital firm Oak HC/FT Partners LLC, Aquiline Technology Growth and Vertex Venture Holdings. Kryon's 150 employees will join Nintex.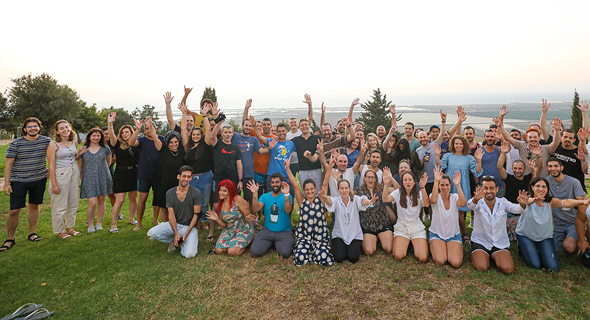 Kryon team. Photo: Shay Shviro

Kryon's process discovery and robotic process automation (RPA) technology is used by Fortune 500 companies across industries like financial services, insurance and telecommunications including industry leaders like AIG, Verizon, LTCG, and CP. The RPA-as-a-Service solutions help companies to understand and improve their operations, resulting in significant time and cost savings.

Kryon is Nintex's first acquisition under its new majority investor TPG, and the company's third acquisition in 16 months. Nintex acquired K2 Software in October 2020 to deepen its digital process automation (DPA) capabilities and AssureSign in June 2021 to bring native eSignatures to its platform, now marketed as Nintex AssureSign.

"With Kryon's innovative capabilities for RPA and process discovery, we are executing on our strategy to continually expand the breadth and depth of our process platform to ensure organizations in both the public and private sectors gain digital process competitive advantages," said Nintex CEO Eric Johnson.

"Our global team is thrilled to join forces with a market-leading software company like Nintex, which also has a strong reputation for being a great place to work in every region of the world," said Kryon CEO Harel Tayeb. "We are ready to quickly infuse our process discovery technology and the next generation of RPA into the Nintex platform to ensure organizations are realizing their fullest digital business potential with intelligent automation."

Kryon's RPA offerings enables organizations to put AI-driven attended and unattended RPA bots to work to generate fast ROI, and with Kryon's process discovery technologies, companies can automatically identify repetitive work processes, visually map the main path and variants of any given process, evaluate the suitability of the process for automation, and instantly generate workflows.