Interview
Food giant Strauss Group, Aviv Labs launch hummus-filled capsule to space
The Israeli corporation, which has supported numerous foodtech accelerators and startups, dished out a significant sum to send its chickpea plant experiment to space and encourage sustainable farming methods ahead of the next-Israeli astronaut's March mission
Growing vegetables in space sounds anything but easy. But food giant Strauss Group - which partnered with SpaceIL co-founder Yonatan Winetraub's Aviv Labs - is placing all its cards on the table after dishing out a significant sum to send its chickpea plants to space to be grown under microgravity conditions. On Saturday, a payload onboard a Northrop Grumman Antares rocket blasted off to the International Space Station from NASA's Wallops Flight Facility in Virginia carrying with it a black box with chickpea seeds. "The entire thing was no bigger than half a shoebox," Strauss Group's CTO Eyal Shimoni told CTech in an interview. The hummus-giant, well known for its brands of the Middle Eastern dip including its Achla hummus sold at supermarkets in Israel, and Sabra (whose other shareholder is PepsiCo.) which is sold at U.S. supermarkets, is betting on the stars. And it's unlikely that Strauss will ever dare to embark on such an expensive mission again.

The experiment is one of the 35 that next Israeli astronaut Eytan Stibbe will test once onboard the space station in April. The idea behind it all began with someone who broke similar records when sending the first Israeli spacecraft to the Moon, Beresheet, SpaceIL co-founder Winetraub. "We were trying to send a lander to the lunar surface. But we weren't the only ones. NASA, and private entrepreneurs like Elon Musk and Jeff Bezos are now looking to send people to the Moon, and set up the first manned-colonies. The first thought that came to mind was: 'So what are they going to eat in space?'" Winetraub told CTech in an interview.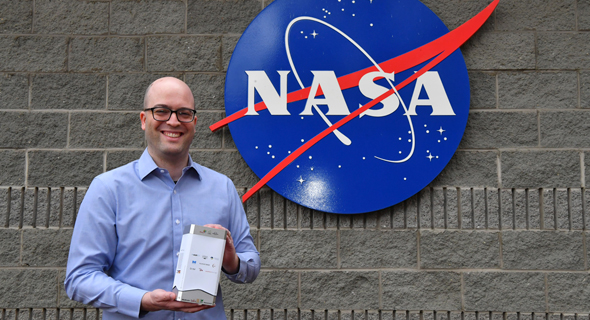 Yonatan Winetraub of SpaceIL holds the hummus experiment prior to its launch at the NASA Wallops Facility in Virginia. Photo: PR

Now a visiting professor at Stanford, he pondered what type of vegetable could be grown in space. The answer wasn't too far off - the chickpea plant, a common legume, and the main ingredient in Israel's favorite dip, hummus. "It doesn't get more Israeli than that," Shimoni added. But aside from cultural reasons, chickpeas possess numerous favorable qualities that make growing them an added bonus: they're relatively easy to grow and hardy, they have a short seed-to-life cycle, and are high in nutritional value, containing high amounts of fiber, B-vitamins, selenium, magnesium, potassium, phosphorus, zinc, and iron. The experiment will test hydroponic techniques for plant growth in zero gravity conditions. Anything, but simple.

If that concept wasn't ingenious enough, then the team which worked on the technical side of the experiment, directed by Winetraub, is the real star of the show. A team of trained, techie high school girls from an all-girls' religious school in Yeruham designed the coding that will enable them to remotely control the greenhouse in space, which involves guiding the cameras to photograph the seeds constantly as well as the sensors which will monitor how the seedlings respond to different light frequencies and wavelengths - and whether that inhibits or promotes their growth when in space.

Sustainable farming starts in space

The hypothesis, stated Winetraub, is to "see whether plants can grow in space, and to what effect we can manipulate the way they grow by using different wavelengths of light. We don't know if chickpeas can even grow in space. This has never been done before. The challenge is not just how many chickpeas can we grow at once, but whether we can learn to control the way they are grown, and maximize our limited resources. The more we learn to grow food with fewer resources, the better prepared we'll be for the challenges that await us on Earth," he said, adding that it will lead to improved methods of sustainable farming. "The issue of food security lies at the heart of climate challenges, and we can use science and technology to resolve those issues," added Ofra Strauss, the company's chairperson.

But following strict NASA regulations that were required of all 35 experiments prior to the launch wasn't easy, as well as the whopping sum to send the experiment to space, which Strauss refused to disclose. Some officials at Strauss related to CTech that they were approached by Stibbe - himself a businessman - to promote their chocolate, hummus, or other snacks in space, but declined.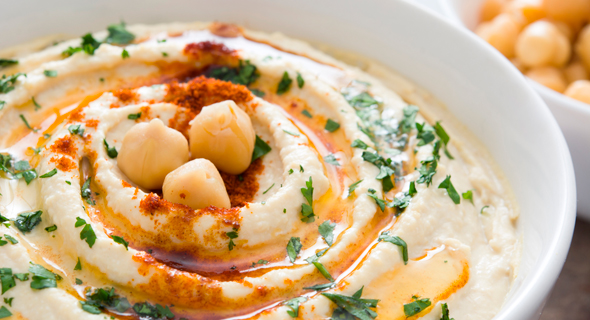 Aviv Labs and the Strauss Group want to grow the "hummus of the future." Photo: Shutterstock

"Commercial companies have only one rule: bring dividends to shareholders. But, we believe we have a bigger role to play in society. Everything we do at Strauss, touches so many people and so many aspects of their lives. If we decide to employ renewable energy, we'll change the entire market. If we collaborate with other companies - (Strauss supports and funds local foodtech accelerators and startups) - we'll contribute to the image of the State of Israel. We want to offer actual solutions to the foodtech ecosystem," noted Shimoni. "I hardly believe that there's a single customer out there who's going to buy our hummus just because we sent it to space," quipped Shimoni, "this is about more than just corporate social responsibility; we're involving high school girls in coding. If another ten Israeli kids become scientists, then that's a win."

Hummus of the future

And it all started with Winetraub, whose idea was to grow chickpea plants in space which can later serve as astronaut food. And using these methods will enable Strauss to create the "hummus of the future," said Shimoni, who's leading the project on Strauss' end. He also has something to say when it comes to innovative food technologies. Over a decade ago, he participated in one of the first Israeli foodtech hackathons, which called upon scientists to design food that could be consumed and prepared on Mars. As a young Technion researcher, he worked on combining molecules that could self-assemble and instantly produce food. "That was pretty sci-fi," he jibes. And while NASA and other space agencies are trying to grow various vegetables, chickpeas hit home. "When it comes to hummus, we are the experts," he added as he chewed on a piece of pita spread with the company's best-selling hummus.

A lot can go wrong with the experiment however, and the team is prepared. The seedlings could sprout en-route to space, which renders the entire experiment useless. The only thing Stibbe must do is press a button to activate the sensors. The team on Earth meanwhile will remotely control the plants, and monitor how they respond to different amounts of moisture, nutrients, and fluctuating temperatures over the 10-day period. "I'm crossing my fingers, because you never know what can happen in space - if the temperature in the cargo cell goes up then the seeds will start growing immediately. Each experiment on the ISS has a slot that ties it to the electricity in the space station, if there's an electrical malfunction up there, it could spell trouble," Shimoni added. Technicalities at the launching site can abound as well. "Hundreds of thousands of small details can go wrong. We hope to simply complete the mission. We hope the plants seed properly, and will use the data we retrieve to devise new methods of growing food on Earth in sustainable ways."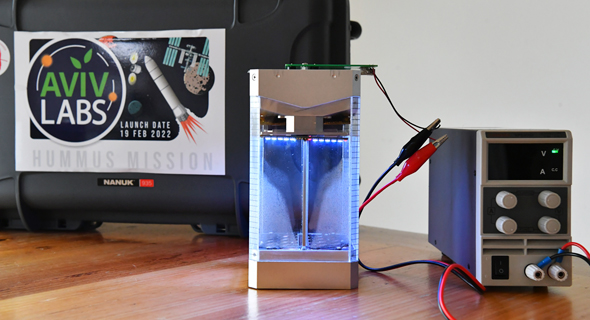 The experiment, which houses a miniature greenhouse that can be controlled remotely. Photo: PR

Weintraub elaborated that the experiment is far more complex than it appears: "We'll be using special LED-lights to see how much plant growth can be controlled, and remotely observe and attempt to control root growth through videos and still images. The goal is to maximize productivity and allow efficient resource management for future space colonies on the Moon and Mars. We believe that using such synthetic biology methods could be essential to growing crops on the space station, the Moon, or even on other planets."

Taking flight

Meanwhile, company employees at the U.S.-based Sabra facilities looked out their windows and saw the launch grace the skies of Virginia over Saturday. "That feeling that something is out there; you can't exactly describe those emotions," Shimoni said.

But improving farming methods isn't the only solution to food security. "When you look at our planet and our limitations, it's pretty obvious that humanity will either need to find other places to live or bring in resources from," Shimoni added. If the mission succeeds, it will contribute to NASA's mission of building the first manned lunar base. "It's a once in a lifetime opportunity that may have something to do with the future of mankind," he added. "This message really resonates with Strauss: nurturing a better tomorrow."

Lastly, when asked whether this mission's excitement is the same as that of the Beresheet mission, Winetraub's message was affirmative. As a veteran of the industry, he added: "It's really exciting to see a project that you worked on for so many years take flight."