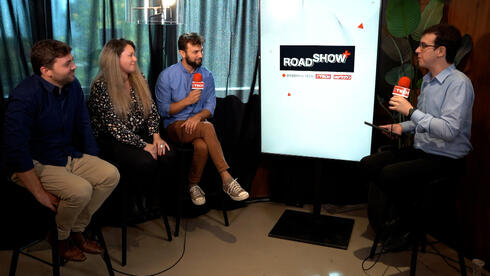 CTalk

"The market definitely requires more stamina from founders"
Liran Grinberg, Co-Founder & Managing Partner at Team8; Nate Meir, Partner at StageOne Ventures; and Keren Kopilov, Partner at Firstime VC, joined CTech at Calcalist's Roadshow to discuss how early-stage companies can prepare for 2023
"In 2021 and in late 2020 the bar was to have an idea or to come from a company or unit in the military. Nowadays we are looking for validation, we are looking to spend more time with the founders, and we are looking to see more stamina," said Nate Meir, Partner at StageOne Ventures. "The market definitely requires more stamina from founders and they need to solve something that is painful for the companies they worked at. We are enterprise investors looking to solve challenges and problems for large organizations. We need to see if they have a budget to pay for these solutions. They have an immediate problem and I think nowadays we speak openly to look for this validation coming from the end of their terms."
The following remarks were made during a panel of early-stage VC partners discussing the impact that this year has had on the investment space. Meir was joined by Liran Grinberg, Co-Founder & Managing Partner at Team8, and Keren Kopilov, Partner at FirstTime VC, who each added their own unique insights on what Startup Nation can expect next year.
"For early stage, it's better the entrepreneurs don't wait until the whole vision will be completed - just go and get customers," Kopilov advised when asked how entrepreneurs can be more cautious and optimistic that what they're building has a real product-market fit. "It is very important to get customer feedback to implement your minimum product for the customer, you have to implement solutions and get feedback. It is challenging but I think it is the most important goal for entrepreneurs."
Even though the entire industry has seen a hit, both in Israel and abroad, some sectors are perceived as being more resilient than others. "One sector that stands out, and it is a sector that Israel is very strong in, is cybersecurity," explained Grinberg. "It became so that every crisis that comes in the world is positive for that industry. If there is COVID, then everyone is transitioning to remote work. There is a lot of change in IT because there are more attack surfaces and you need more cyber awareness. Then there's the Russia and Ukraine war, and a lot of cyber warfare and there is more awareness of that. Even in times of recession, it means that in specific countries there is more of a shift to cybercrime," he added.
You can watch the entire exchange in the video above.