Israel-Greece Conference

Values from Athens and Jerusalem "have given us the modern West"
CTech journalist and editor James Spiro made the remarks at the opening of Calcalist's first Israel-Greece conference
Entrepreneurs, politicians, and business experts from Israel and Greece gathered this morning to kick off the first Israel-Greece conference hosted by Calcalist and Brown Hotels. While there, guests heard from Israeli President Isaac Herzog, Greek Minister of Tourism Vasilis Kikillias, and Israeli businessman Meni Weizman. The conference is expected to touch on a variety of topics such as real estate, innovation, and travel.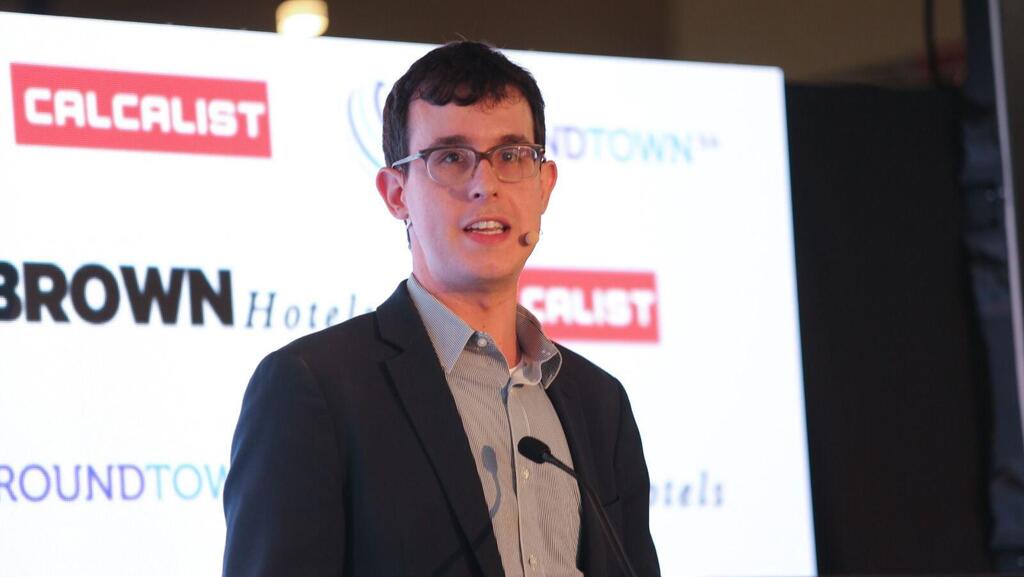 The conference is moderated by CTech journalist and editor James Spiro, who made the following remarks:
Following [remarks from President Herzog] is a tough act to follow, but I will try my best. It is a pleasure to be standing here today to kick off Calcalist's Israel-Greece conference this morning. It marks the first time that Calcalist has hosted a conference here, and we can't wait to hear from experts in the fields of innovation, real estate, and travel.
Years ago, while making a documentary on Greece's economic challenges, I found myself in Athens standing at the Acropolis. While there, I started thinking of all the things that Greece and its people have given the world. Of course, there are the Olympic Games, delicious gyros and souvlaki, but there are also significant components of early civilizations that are still in our society today.
First, democracy. The ancient Greeks gave birth to modern-day democracy as we know it today. Demokratia, as it was called, outlined political reforms that promised lands were 'ruled by the people'.
Israel might be a few years younger as a country, but it is certainly no stranger to the concept of elections - and demokratia of its own. In fact, with four elections in two years, Israel can proudly claim to be the most democratic nation in the entire Middle East, easily supplying the demand on behalf of its neighboring countries. It carries out this duty laid out by the ancient Greeks while also promoting Progressive values such as innovation in economics and liberalism in society. Its commitment to this makes it one of one the most inclusive countries in the region.
The Greeks also gifted the world with Stoicism as a method for overcoming life's challenges, and how emotions like fear, envy, or even intense love must be put aside in order to keep ourselves under control. This philosophy can be seen as Greece overcomes tremendous economic hardship, placing a focus on travel and real estate as sectors that can bring prosperity back to the country.
What greater lesson for the Israeli entrepreneurs of today's Startup Nation than to live a life with 'stoic calmness'? The renowned qualities of wisdom, justice, courage, and moderation outlined nearly 2000 years ago can be seen in our leaders of today.
Finally, Greece gave us Logic - something Plato would call the highest and most powerful human capability. Well, we see this in every facet of our lives. In the protection of our business, our family, and our culture.
The blend of logic and reason from the Greeks with the Judeo-Christian values found in Jerusalem has given us the modern West. What Israel and Greece together share has spread far and wide, to regions across the world that seek inner calmness, democratic fairness, and economic freedom. That, and of course our shared love of shawarma and souvlaki!
The film I made was released nine years ago today - and yet I find myself back here for this conference hosted by Calcalist and Brown Hotels. Throughout the day, we will be hearing how the traits I mentioned have endured among folks who have no doubt practiced the art of calmness, who have lived and thrived in functioning democracies, and who use their bright minds to succeed. I can't wait to once again hear your stories and learn your lessons.
Be sure to follow CTech and Calcalist throughout the day to keep up to date with all the latest news coming from Calcalist's first Israel-Greece conference.