Chinese Bike-Sharing Company Ofo Poised to Enter Israeli Market
The company announced major global expansion plans last week. Ofo sees in Israel a strategic market despite its small market size
Chinese bike-sharing company Ofo is poised to enter the Israeli market. Despite its small market size, Ofo sees in Israel a strategic market, said people familiar with the matter who spoke on conditions of anonymity.
Founded in 2014, Ofo, China's largest bike-sharing service, is at the center of sweeping changes that have seen tens of millions of Chinese consumers switch to ride-sharing and bicycles sharing services in recent years.
On Thursday Ofo announced a $700 million funding round led by Alibaba. Operating over 6.5 million bikes in 150 cities, mostly in China, it has some 100 million users.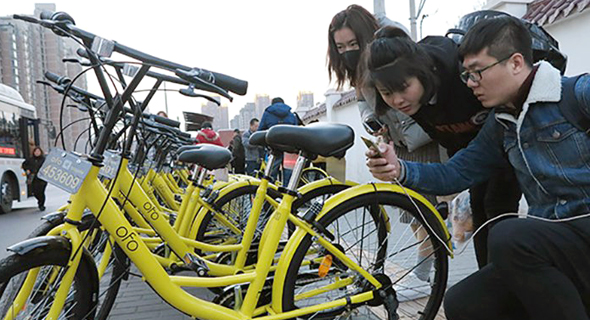 Ofo's Bike-Sharing service in China
As part of its funding announcement Ofo said it plans to operate 20 million bicycles in countries by the end of 2017. The company already has 6,500 bicycles in Singapore, and two small pilot operations in Cambridge, England and Austin, Texas.
Mobike, Ofo's biggest rival in China, announced a funding round of $600 million led by Tencent last month. The company also announced global expansion plans.
Unlike similar services in Europe and the U.S., Ofo's operational model does not include docking stations, and users unlock the bike by entering a code into an app on their phones.
An Ofo manager appointed to oversee operations in Israel is currently setting up operations on-ground in the country, the people familiar with the matter said.
The company did not respond to requests for comment.